Concert Reviews
Recap and photos from Metal Mike Koreski in Grand Ronde, Oregon (8/6/21)
Concerts! Concerts! Concerts! If you're reading this you've probably missed them as much as I do. Last night was my first show since February 2020. I don't think I have gone that long without a concert for the last 15 years. Here's some things to think about as bands hit the road again after being off for a good chunk of time….
I was really excited that Tesla was my first show back from the virus that at one time took every day life down to a snails pace…..musicians included. I mean, we heard them on several podcasts during lockdown, on Zoom jams as well, but no shows for them to promote or us to look forward too. I think it's because of that daily scenario that the saying "the thought is better than the reality" came to mind for me in regards to last night.
Imagine my surprise as my roommate and I are watching the band assemble to each side of the stage getting ready to grab their gear and start the show. We see everyone but Frank Hannon. Then, when the band comes on stage….THERE'S NO FRANK HANNON!!!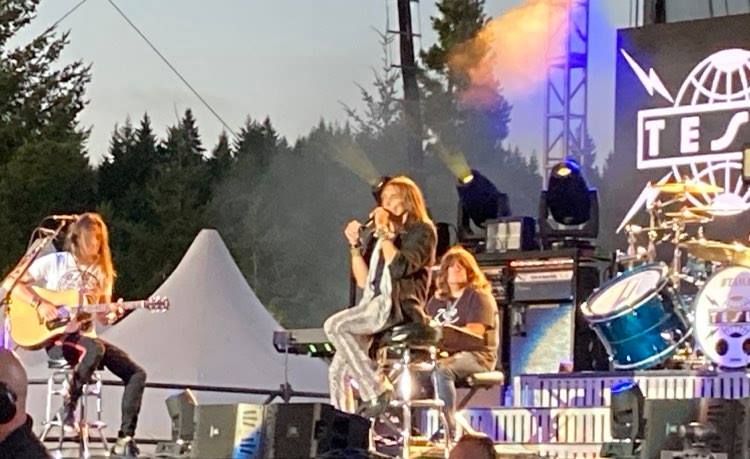 Of course, the shock is there, and the feelings of being super bummed. I mean, Hannon is a HUGE part of the band!! Besides the blistering solos he's also a great vocalist in his own right, adding so much to the back ground vocals and occasional harmonies with Jeff Keith. We're assuming the fill in was his guitar tech (the band and Hannons websites aren't saying anything at this point about it).
He did an admirable job as make no mistake, he had VERY big shoes to fill. With it being only the second show of the tour after not playing live for 18+ months, that probably also played into him not quite as into the moment as the rest of the band, there were some songs where I could tell he was concentrating more on playing the part as it's known for more than being on stage if that makes any sense. Truth be told, if you closed your eyes, you probably couldn't tell the difference so he was great in stepping up in a crazy difficult situation!
Onto the show itself!!! Tesla opened with the face melter "Comin' Atcha Live" then followed up with another face melter "Modern Day Cowboy." Jeff Keith's vocals were amazing which was so refreshing after hearing several veteran singers fall short these last couple weeks as bands are starting their on road lives again. Keith also was his usual on stage self, thanking the crowd for coming out several times while being really happy to be out there. He had to carry more of the load on stage being the focal point with no Frank, and he passed that task from the opening song.
Click Here to view more photos
Unlike the last time I saw them in 2019, there wasn't a new album to promote so the set list, while short for my liking at one hour and 20 minutes, was mostly the songs you know them the most for.
A couple "treats" they threw in were "Breakin' Free" from "Forevermore" in 2008, and a really cool version of "Paradise" off of "Great Radio Controversy" that had bassist Brian Wheat on the keyboards and both guitarists on acoustic guitars to start the song, then switch out later in the song.
After the show we ended up talking to someone who sat in back of us who claimed he was a friend of the Keith family who confirmed that Hannons absence was a Covid rumor that was most likely true, and during the bands sort of meet and greet before the show that fans who paid to watch the sound check (there wasn't any actual meeting the band) had to mask up, etc.
I'm sure there will be more stories like this from shows as the touring machine cranks up around the world. Unless you live in a bubble (which many of us did last year), you've seen countless entertainers, sports figures and even Olympians come down with the virus.
As the band closed the night with "Little Suzi" and "Signs", I was enjoying the moment. We're still talking today about a band that broke in 1986, whose music doesn't sound dated (in my opinion) and is performed to a fantastic level. After seeing so many 80's based bands sounding awful on Youtube, it's great to know Tesla is still delivering the goods. Jeff, Brian Wheat, Troy Lucketta, Dave Rude and the mystery guitarist provided great entertainment despite all the set backs facing the band as they start up again.
Best wishes for whatever is ailing Frank, and I'm definitely ready for their next go round!
Click Here to view more photos
Recap from Metal Mike Koreski in Portland, Oregon (4/17/18), Additonal photos from Ralph Cartel in Los Angeles, California (4/22/18)
What an atmosphere for Tuesday night's show at the Portland Memorial Coliseum. The Portland Trailblazers were playing game two of the first round of the NBA playoffs. Then across the courtyard was a near sellout crowd of a different sort….some younger, mostly older metal fans who came out for a BIG night of 80's metal music featuring Judas Priest and Saxon!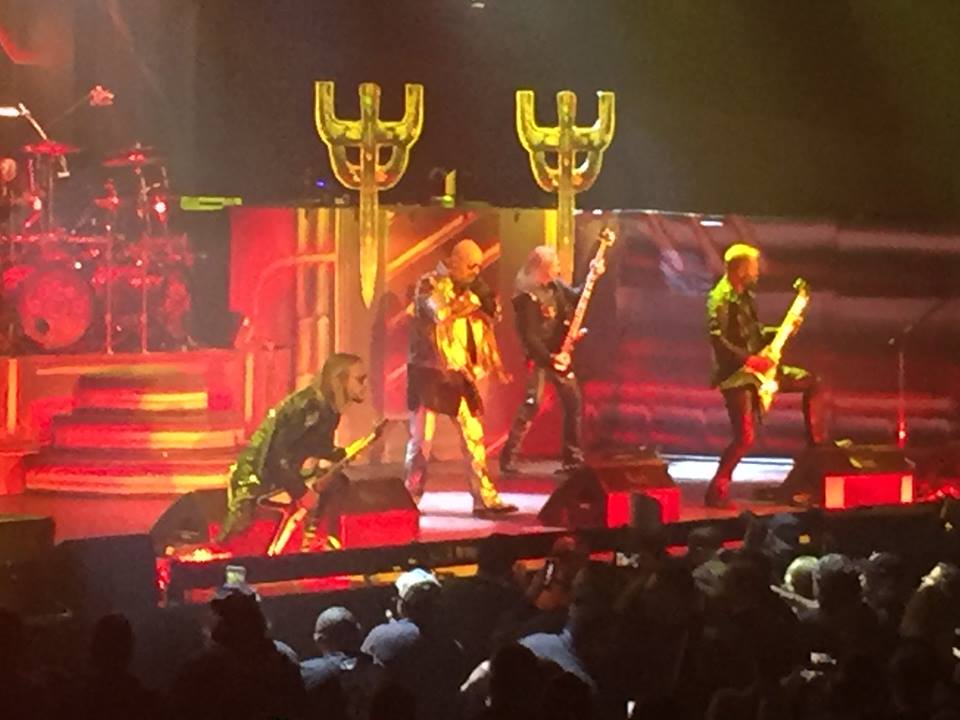 Judas Priest is riding a wave of momentum right now… 70's/80's hard rock/heavy metal is more accessible at arenas and clubs these days as it used to be during those decades when many of the bands were earning the "classic" status they have now.
The latest Priest release "Firepower" is very good (in my opinion their best work since Painkiller in the early 90's), and the unfortunate circumstances with original guitar player Glenn Tipton (who has Parkinson's and is to the point where he can't tour anymore) have also caused fans to realize you better see these groups now while you can as you truly never know when they are done.
Click Here to view more photos
Opening the night was Black Star Riders, which was originally a latter day version of Thin Lizzy, centered around one of the key guitarists, Scott Gorham and singer/guitarist Ricky Warrick, who changed their name when they decided to make new music, but still play some Thin Lizzy classics and deep cuts. This show featured "Jailbreak" as the second song into their tight 40 minute set. The band is good… some good energy on stage… Warrick in particular is a VERY intense performer.
Next up was Saxon, one of the original NWOBHM (New Wave of British Heavy Metal) bands. Their close to one hour set was split between selections from their latest scorching release, "Thunderbolt" (the title track was the opener and as well it should've been), and classic tracks such as "Power and the Glory", "Denim & Leather" and "Dallas 1pm".
Saxon vocalist Biff Byford was my vote for MVP of the night… amazing stage presence, knows how to work the crowd and his voice was amazingly strong for being several decades in use. Oh yeah, and he looked very regal in a double breasted revolutionary-war-looking coat… so metal, LOL. The bass player for Saxon was the craziest stage performer I've seen in decades. The guy was doing the best animal from the Muppets imitation ever and his head would just continually thrash during most of the songs. He also ran the whole stage, stood on the front stage amps and embodied how Saxon are still a vital band for fans of this genre. By the way, pick up "Thunderbolt", you WILL NOT be disappointed!
And then it was time for the main event. Judas Priest opened their set with the title track off their latest face melting release "Firepower", and the rest of the set didn't disappoint. They played "Freewheel Burning" on this tour for the first time in a looooong time, and my favorite song of the night was the "Screaming For Vengeance" deep track "Bloodstone". Guitarist Andy Sneap (who co-produced Firepower and was Tipton's choice to replace him on tour) had a chance to shine on this song and a few others, but Richie Faulkner is the featured player in the band now.
The second half of the show was loaded with more of the sing along chorus songs that allowed vocalist Rob Halford to have the crowd sing them, giving him a small break on "Turbo Lover", "Hell Bent for Leather" and "You've Got Another Thing Comin'.
And then, the big reveal… Glenn Tipton came out for the encore and played for only the third show of the tour so far (he played at the Kent, WA show two nights earlier). The encore was "Metal Gods", "Breaking the Law" and the finisher, the gigantic sing along "Livin' After Midnight".
Click Here to view more photos
A couple of points about this show… all three bands have new discs out and you really should be purchasing them, as they are worthy of being listened to in sequence, not on a music service playlist with several other bands, even though you just wanted one. Also, support live music when these and several other "vintage" artists come to town (see Rich Rock's Y&T review for an example). Many bands bring it better than they have in years.
In 2016, former DIO guitarist Vivian Campbell was quoted as saying that DIO DISCIPLES, a band made up of former members of DIO, along with a rotating lineup of singers, including former Judas Priest frontman Tim "Ripper" Owens, have "zero credibility" as a Ronnie James Dio tribute project despite the fact that the band is fully supported by Ronnie's widow/manager, Wendy.

Campbell had his own DIO tribute in LAST IN LINE, that band featured original DIO drummer Vinny Appice and bassist Jimmy Bain, who passed away in January 2016, alongside singer Andrew Freeman. Since then Campbell continues to play with Def Leppard and Appice, who called the formation of DIO DISCIPLES "disgusting" in 2011, performed with them just two years later, saying "it's not disgusting anymore.' The problem was they did it a couple of months after Ronnie passed, and then I thought it was awful; it wasn't the right time. Now they can do whatever they want; it's cool."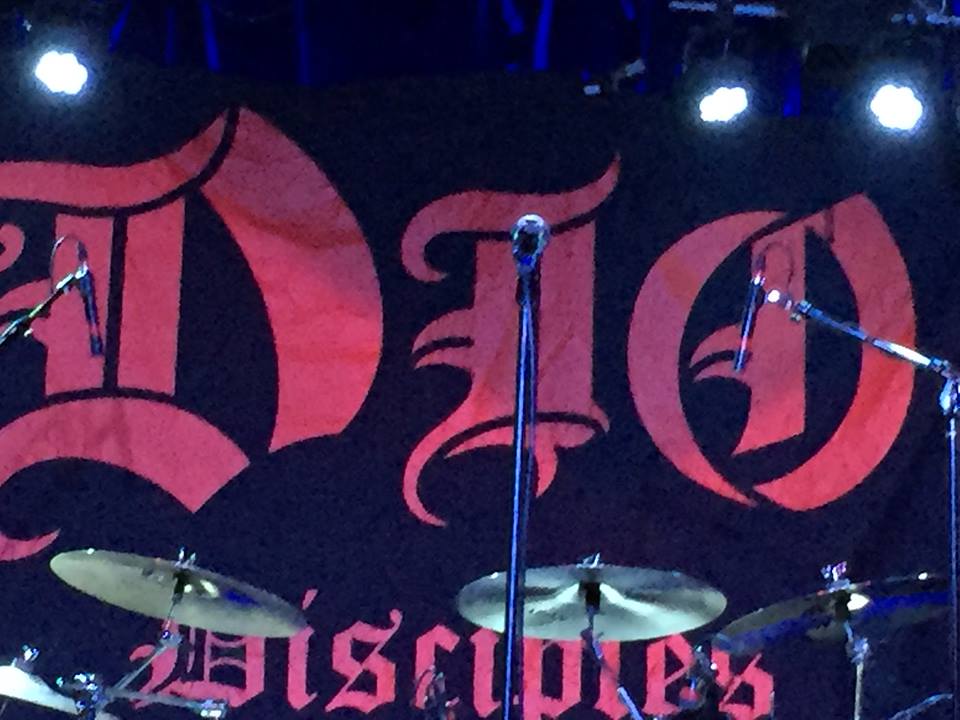 I had a chance to see DIO DISCIPLES recently in Portland (March 22, 2018 at Dante's). Following two opening bands, they took the stage around 10:45pm and opened with "Holy Diver."
Click Here to view more photos
Guitarist Craig Goldy played great but was pretty sedentary on his side of the stage, and much of the night had a scowl on his face LOL. Although he did come out just minutes after the show ended and autographed my friend's shirt that features various guitar player autographs. Goldy also did the selfies with fans and was "a cool dude"… just didn't come across on stage.
Tim "Ripper" Owens on vocals was spot on, sounded great and was totally respectful of the material. He seemed grateful to the crowd for being there. He really shined on "Egypt (The Chains Are On)", "Stand Up and Shout" and "The Last In Line".
They did a mini Rainbow set mid show with a song that "Ripper" said Glenn Hughes sung at Ronnie's funeral, "Catch the Rainbow", then "Long Live Rock 'n' Roll" and "Man on the Silver Mountain", which was played much closer to the original in tempo and guitar tone than when the DIO band with Vivian Campbell played it back in the day, which was more aggressive. Former Yngwie Malmsteen bassist Bjorn Englen and former AC/DC and DIO drummer Simon Wright were a good rhythm section. Former DIO and Heaven & Hell keyboardist Scott Warren also played with DIO Disciples on this night.
In short, great performances but waaaaay too much material to do just an hour, no matter if it's a school night on a Thursday. They played for an hour and five minutes, that's including an encore which was "Rainbow In the Dark" – Click Here for full setlist. I guess I get it if you charge $20 that you don't feel you need to play long. Would DIO himself have handled it this way? My hunch if you look at the last couple of solo club tours he did, the answer would be no. He probably played a full set, no matter what the ticket price. Ahhhhh, rock and roll economics for 2018 🙁
 
NOTES: The full show started a bit before 9pm. Splintered Thorne went first and was really good… some Saxon like vocals with metal growling every so often and some melodic choruses too. They have two CDs out and with a struggling local metal scene in Portland, they're worth a listen. The second band, Separation of Sanity, were more metal with tempo changes and Pantera like vocals and solos.
 
Photos courtesy of Mike Koreski.
 
Click Here to view more photos
Remember Y & T? I asked a few of my friends who like or appreciated 80's rock and metal and I was floored how many had never heard of them, especially when you consider many of the biggest acts to come out of the 80's became popular by opening for Y & T, including Metallica and Mötley Crüe.
Well, it's their loss. I remember it all and so do the many bands and performers you have heard of that say Y & T was a major influence on them, such as Lars Ulrich of Metallica, who stated in the 2009 film "Anvil!: The Story of Anvil" that he chose to become a musician after watching Yesterday & Today (Y & T) perform at a club in L.A. in 1980, saying: "That was the turning point for me wanting to play music…You could tell that they loved what they were doing." And judging by their performance at the intimate Aladdin Theatre (capacity -620) in Portland, Oregon on Friday, March 16, 2018, they still do.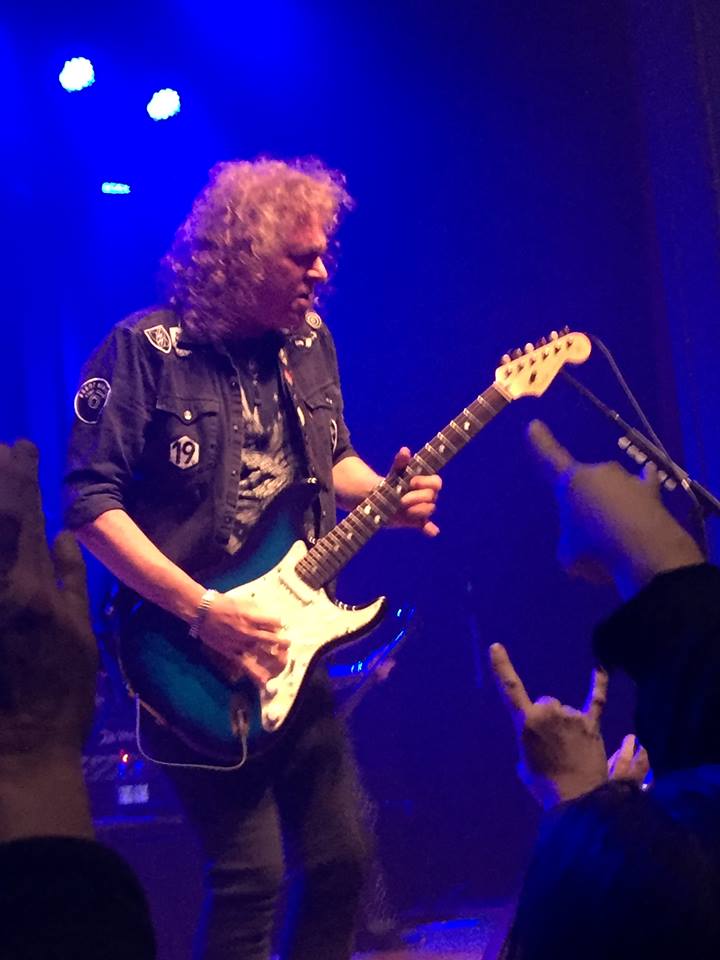 The band has gone through many lineup changes since the early 70's, with the lone mainstay from their classic lineup being lead guitarist and singer Dave Meniketti. Sadly former Y & T rhythm guitarist Joey Alves died last year, original drummer Leonard Haze passed away in 2016 and bassist Phil Kennemore died in 2011. I thought about this as Y & T performed "Lonely Side of Town" from the Mean Streak album… "It's a cold, cold city when you're out there on your own."
Click Here to view more photos
Backing up Meniketti in Y & T today is rhythm guitarist and backing vocalist John Nymann, bassist Aaron Leigh and drummer Mike Vanderhule. These guys made me think of the Netflex documentary 'Hired Gun'… they are consummate side players who kill it show after show.
When you are the sole remaining member of a classic band, most of the attention will come your way and Meniketti didn't disappoint. At age 64, experience matters and his underrated guitar solos rival the greats who have received most of the accolades from that period of music.
The setlist for Portland included opening with "Black Tiger" and METAL SHOP staples "Mean Streak," "Lipstick & Leather," and "Contagious." Checking Setlist.fm, Y & T has mixed it up on this tour, taking requests from the audience that has left some favorite songs out, including "Don't Stop Runnin'" which they had played only once this year before this show. The bummer was "Midnight In Tokyo" was left out for us.
My cohorts and me left the Y & T show impressed and a bit perplexed this band didn't receive more widespread acclaim back in the day. It was a great performance by seasoned musicians and left us wanting more.
Click Here to view more photos
Y & T returns to their hometown San Francisco, California to play the historic Fillmore on March 24th, then a short break before returning to the road for dates in California and Nevada through the end of April.
Photos courtesy of Mike Koreski.
Count me as an 80's metal fan that wasn't overly excited about a Guns N' Roses reunion tour when it was announced on April 1st of this year (it could have been a joke anyway, right?). Sure, we heard Axl and Slash were talking and supposedly had buried the hatchet, but I had images of a fat Axl and a reluctant Slash getting along just long enough for a major money haul.

The latter may still be true and if it wasn't for my 17 year old son really wanting to see his new favorite band, I am not sure I would have gone. But after seeing the mostly original GnR lineup (Axl, Slash, Duff) perform in Seattle on Friday, August 12, 2016, I can say I came away impressed with the peformance and I am glad I went.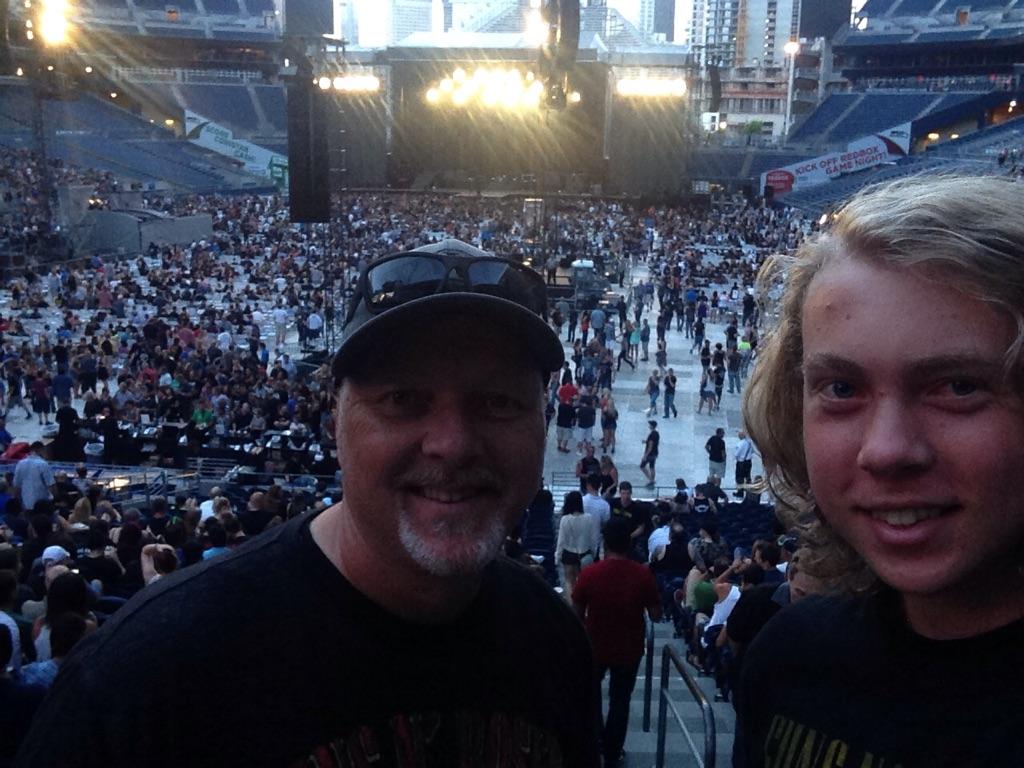 As expected, there was wait at the t-shirt line, but it went fairly fast compared to other shows we have attended this year. While waiting, we could hear 'The Pink Slips', an up and coming synth-pop/punk band, fronted by 18 year old GRAVE (aka, Grace McKagan; daughter of Guns N' Roses bassist Duff McKagan) playing their opening set. As we made it to our seats, they were followed by one of my personal favorite non-80's metal bands, Seattle's own, Alice In Chains, who played a fantastic set, but started so early (7:20pm), most fans had not arrived yet, and as a result, their performance lacked some of the energy you would expect from an AIC show.
Click Here to view more photos
 
The stage was turned for the headliners and anticipation started to set in for real on a warm evening in the Emerald City (about 83 degrees at showtime) when the giant video display began showing various GnR logos as twilight set in.
The reunited Guns N' Roses looked and sounded great… Axl was fit, Slash is one helluva guitar player and Duff pandered to the Seattle crowd by wearing a Seahawks shirt. They opened with 'It's So Easy' and 'Mr. Brownstone', before performing 'Chinese Democracy' and then whipping the crowd into a frenzy with 'Welcome to the Jungle'.
It was a great energetic opening and then the setlist got a little erratic with 'Double Talkin' Jive', 'Estranged', 'Live and Let Die', and 'Rocket Queen'. All great songs, but so slow after those first four. Okay I'm being a little picky 🙂 'You Could Be Mine' got the crowd going again, followed by a cover of the Misfits 'Attitude'. Then came 'This I Love', 'Civil War (with "Voodoo Child" outro)', Coma, and a long but killer guitar solo from Slash playing the 'Love Theme from the Godfather' before launching into 'Sweet Child O' Mine'.
The Guns N' Roses catalog is loaded with some of my favorites of all time, but I was also reminded how many ballads they released. They performed 'November Rain' that included a piano intro and exit of Eric Clapton's 'Layla' back to back with 'Knockin' on Heaven's Door'.
They finished the main set with 'Nightrain', before returning for encores that included 'Don't Cry' and 'Paradise City', complete with great fireworks show that could only be done at an outdoors arena.
The Guns N' Roses North American 'Not In This Lifetime' tour ends August 22nd in San Diego, California after two nights at Dodger Stadium in Los Angeles. METAL SHOP's Ralph Cartel attended the 8/18 show, where he noted "the last time I saw the original Guns N' Roses was back in 1988 when they opened up for the Rolling Stones at the Memorial Coliseum in Los Angeles. I vaguely remember Axl Rose talking shit… saying that if some members of the band didn't stop dancing with Mr. Brownstone, that the band would break up."
 
Axl, Slash and Duff last played together with the original band on the 'Use Your Illusion tour' that ended in Buenos Aires, Argentina, on July 17, 1993. There was no public affection between the three of them at the Seattle show, in fact, there was not much banter at all. Axl is still aloof, but his voice is in fine shape and seeing these great musicians together one more time made for a great memory.
Click Here to view more photos
80's Metal Perfect Pairing: Armored Saint Metal Church
Since December I have seen Motley Crue, AC/DC and Iron Maiden live. Arena Rock is great, but these bands all started in some club somewhere. And there is just something about a small club that takes you back to the early hungry days as bands work to make a name for themselves.
Saturday night's Armored Saint Metal Church concert at the Hawthorne Theatre (capacity -620) in Portland, Oregon on Saturday, June 11, 2016, had that feel and it was awesome. Putting these bands together for a tour was a great idea, but too short as this was the final show.
Armored Saint
A friend of mine who attended said "Armored Saint was crazy good!!! The energy there was just something you don't see at many shows! There was some urgency to it! Still buzzing from it, rhythm section was amazing!"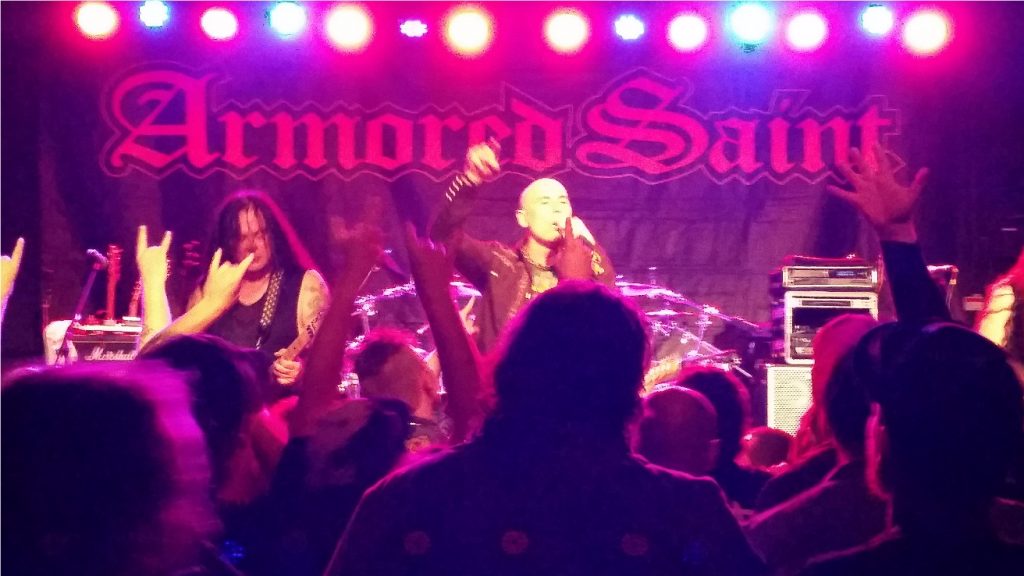 This co-headline tour featured each band switching off each night and on this stop, Armored Saint took the stage first. The last time they played here was 2001 at the Roseland Theatre. At the time though, that venue had a different name and lead singer John Bush asked the crowd what is was called? (Starry Night).
I loved the localized banter from Bush between songs. We know most singers just repeat the same lines each night, but Bush was specific to Portland on most things he talked about, including playing here with Metallica in the early 80's and the time he threw out his armour costume into the crowd… "somebody here tonight still have that?" he asked. Speaking of which, there aren't too many photos out there of the 1984 tour, but I found one here courtesy of the Kevin Estrada Blog.
Armored Saint opened with the great new song 'Win Hands Down' and their setlist included all the classics we know and love… 'March of the Saint', 'Long Before I Die', 'Reign of Fire' and 'Can U Deliver'.
My friend continued, "Armored Saint should've headlined and their set wasn't long enough! John Bush was the star this night! That voice is just flawless! My fav moment was when Bush nailed that scream in the middle of "Can U Deliver"!
Yes, I felt that… I'm still buzzing too. And how about Bush jumping into the crowd to surf? The dude is 52… that was killer! A guy next to me was at the Seattle show the night before and I thought "you drove down here to see it again?" I get it though. Hope they come back soon.
Metal Church
Around 11:30, Metal Church hit the stage, opening with 'Fake Healer.' The crowd was just as fired up for this one and with Mike Howe back on vocals, the night just felt special, like how lucky are we to see this great concert.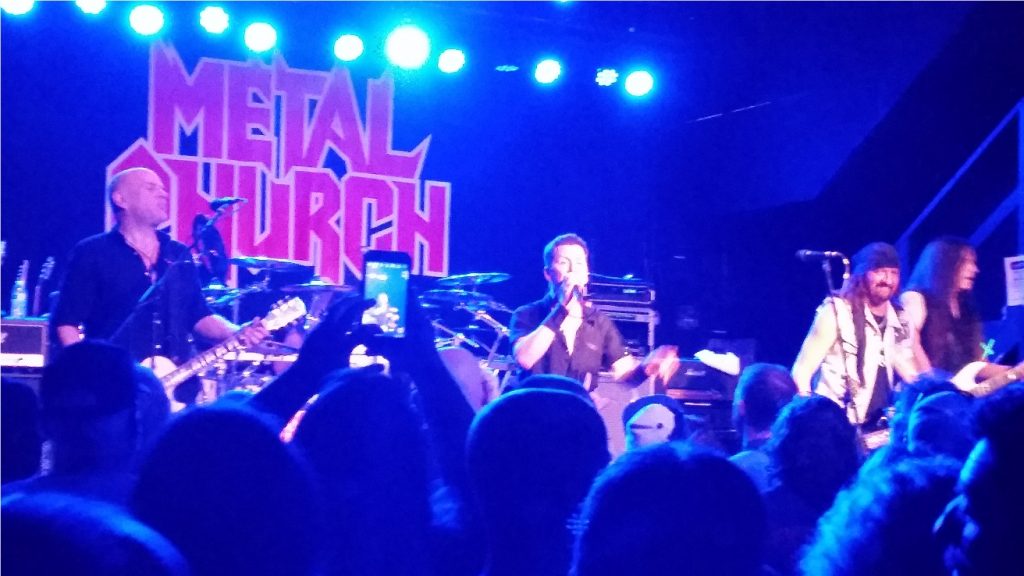 The mosh pit was non-stop during both shows. My 17 year-old son and I were separated from the pit by only one row of humans, who did a good job pushing the moshers back in, but we got bumped a few times. When Metal Church launched into 'Start the Fire', I felt like I might want to join the pit, but I came to my senses and perished the thought.
There were quite a few tracks from the new album in their 13 song set, including 'No Tomorrow'. Most of the setlist featured songs from the Church albums Howe sung on from 1988 to 1994, including 'In Mourning', 'Date with Poverty' and 'Badlands'.
Only one song was played from their 1984 debut album and it was 'Beyond the Black'. Howe joked with guitarist Kurdt Vanderhoof that this song was written the day he was born.
This West Coast USA tour lasted all of seven dates. I'm not sure if it was a test run or something, but it was one of the best 80's metal concerts I have attended. The small club feel and sound combined with musicians who have been playing together for 30+ years in some cases, made for an enthralling performance from both of these great bands.