Recap and photos from Metal Mike Koreski in Portland, Oregon (2/8/22)
The stage was set for the latest tour of Slash featuring Myles Kennedy and the Conspirators, and what transpired over the next two hours for opening night was fantastic.
Over the last 12-14 years, Slash has put together his own brand with a band and several recorded albums, which still gets worked on while he's been on tour with G-N-R the past 4-5 years.
The opener was the first single from the previous album (Living the Dream) called "Driving Rain". The setlist was a great sampling of his work with the Conspirators including 3 from the brand new album "4", which were basically recorded live as a band, no multi-tracking or layered guitars or vocals. These songs really show the talent the group has because there are zero studio tricks on these songs and the band plays them as if they've been in the setlist since day one.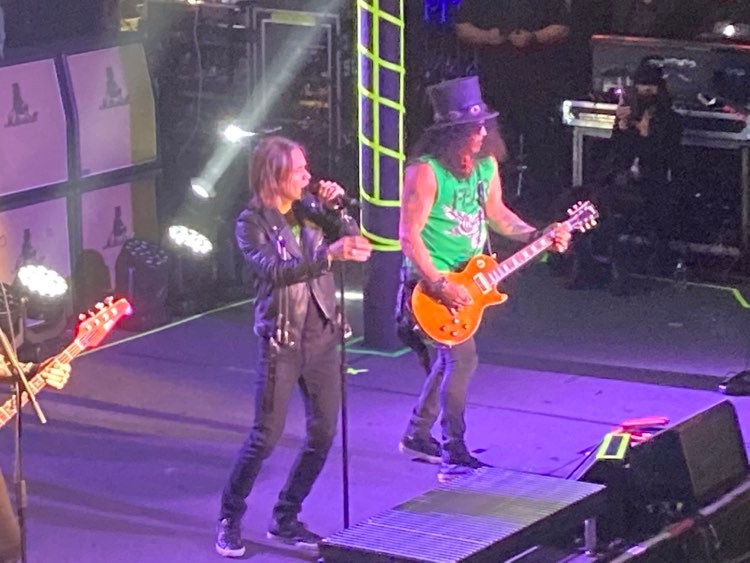 There were some surprises as well. Lead vocalist Myles Kennedy took a song off two different times during the evening, leaving the lead vocal duties to bassist Todd Kerns. One of the songs was a fun cover of Lenny Kravitz "Always On the Run" which Slash played guitar on when recorded in the early 00's. Kerns is the secret weapon of the band with some amazing background vocals, which wouldn't be easy harmonizing with Kennedy yet Kerns does a fabulous job with spot on harmonies, as well as first rate stage energy. To me, Kerns is "The Secret Weapon".
A couple of interesting highlights of the night were an exceptional version of Elton Johns "Rocket Man", which their version is from a movie, but didn't make the soundtrack due to Covid complications. Kennedy really shined on this track, delivering a very understated but meaningful performance.
A great blues groove turned rocker tune called "Back To Cali" also highlighted the night for me, with Kerns background vocals standing out the most (this song was the first one Slash and Kennedy worked on together pre-Conspirator era).
Click Here to view more photos
The musicianship from the whole band was superb, with Slash leading the way with everything from understated songs to all out shred fests!!! Slash's tone was perfect the whole night, a true professional at work!
Another wonderful thing happened during this show. For the first time in a long time there were NO SHENANIGANS at the concert! No mosh pits, no crowd surfing, no fighting in the crowd, no overly drunk "fans". It felt like the crowd was all unified with the same purpose: to rock and roll with an A+ band.
If you get a chance see this band live. At the end of the night you will be impressed and then some! -Metal Mike
Click Here to view more photos