In 2016, former DIO guitarist Vivian Campbell was quoted as saying that DIO DISCIPLES, a band made up of former members of DIO, along with a rotating lineup of singers, including former Judas Priest frontman Tim "Ripper" Owens, have "zero credibility" as a Ronnie James Dio tribute project despite the fact that the band is fully supported by Ronnie's widow/manager, Wendy.

Campbell had his own DIO tribute in LAST IN LINE, that band featured original DIO drummer Vinny Appice and bassist Jimmy Bain, who passed away in January 2016, alongside singer Andrew Freeman. Since then Campbell continues to play with Def Leppard and Appice, who called the formation of DIO DISCIPLES "disgusting" in 2011, performed with them just two years later, saying "it's not disgusting anymore.' The problem was they did it a couple of months after Ronnie passed, and then I thought it was awful; it wasn't the right time. Now they can do whatever they want; it's cool."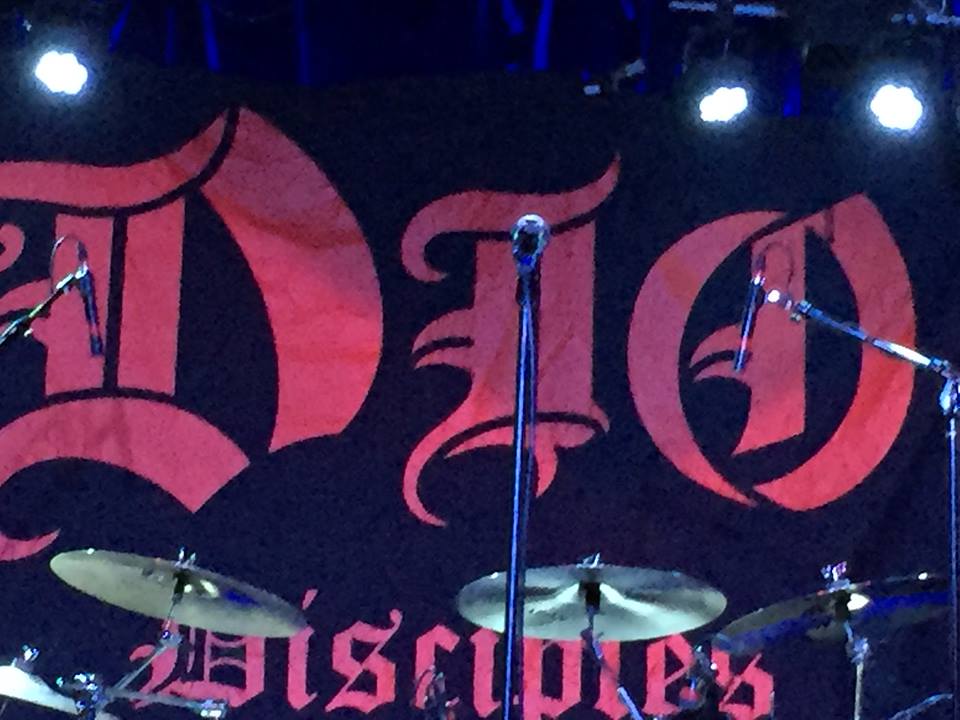 I had a chance to see DIO DISCIPLES recently in Portland (March 22, 2018 at Dante's). Following two opening bands, they took the stage around 10:45pm and opened with "Holy Diver."
Click Here to view more photos
Guitarist Craig Goldy played great but was pretty sedentary on his side of the stage, and much of the night had a scowl on his face LOL. Although he did come out just minutes after the show ended and autographed my friend's shirt that features various guitar player autographs. Goldy also did the selfies with fans and was "a cool dude"… just didn't come across on stage.
Tim "Ripper" Owens on vocals was spot on, sounded great and was totally respectful of the material. He seemed grateful to the crowd for being there. He really shined on "Egypt (The Chains Are On)", "Stand Up and Shout" and "The Last In Line".
They did a mini Rainbow set mid show with a song that "Ripper" said Glenn Hughes sung at Ronnie's funeral, "Catch the Rainbow", then "Long Live Rock 'n' Roll" and "Man on the Silver Mountain", which was played much closer to the original in tempo and guitar tone than when the DIO band with Vivian Campbell played it back in the day, which was more aggressive. Former Yngwie Malmsteen bassist Bjorn Englen and former AC/DC and DIO drummer Simon Wright were a good rhythm section. Former DIO and Heaven & Hell keyboardist Scott Warren also played with DIO Disciples on this night.
In short, great performances but waaaaay too much material to do just an hour, no matter if it's a school night on a Thursday. They played for an hour and five minutes, that's including an encore which was "Rainbow In the Dark" – Click Here for full setlist. I guess I get it if you charge $20 that you don't feel you need to play long. Would DIO himself have handled it this way? My hunch if you look at the last couple of solo club tours he did, the answer would be no. He probably played a full set, no matter what the ticket price. Ahhhhh, rock and roll economics for 2018 🙁
 
NOTES: The full show started a bit before 9pm. Splintered Thorne went first and was really good… some Saxon like vocals with metal growling every so often and some melodic choruses too. They have two CDs out and with a struggling local metal scene in Portland, they're worth a listen. The second band, Separation of Sanity, were more metal with tempo changes and Pantera like vocals and solos.
 
Photos courtesy of Mike Koreski.
 
Click Here to view more photos