Ronnie James Dio
In 2016, former DIO guitarist Vivian Campbell was quoted as saying that DIO DISCIPLES, a band made up of former members of DIO, along with a rotating lineup of singers, including former Judas Priest frontman Tim "Ripper" Owens, have "zero credibility" as a Ronnie James Dio tribute project despite the fact that the band is fully supported by Ronnie's widow/manager, Wendy.

Campbell had his own DIO tribute in LAST IN LINE, that band featured original DIO drummer Vinny Appice and bassist Jimmy Bain, who passed away in January 2016, alongside singer Andrew Freeman. Since then Campbell continues to play with Def Leppard and Appice, who called the formation of DIO DISCIPLES "disgusting" in 2011, performed with them just two years later, saying "it's not disgusting anymore.' The problem was they did it a couple of months after Ronnie passed, and then I thought it was awful; it wasn't the right time. Now they can do whatever they want; it's cool."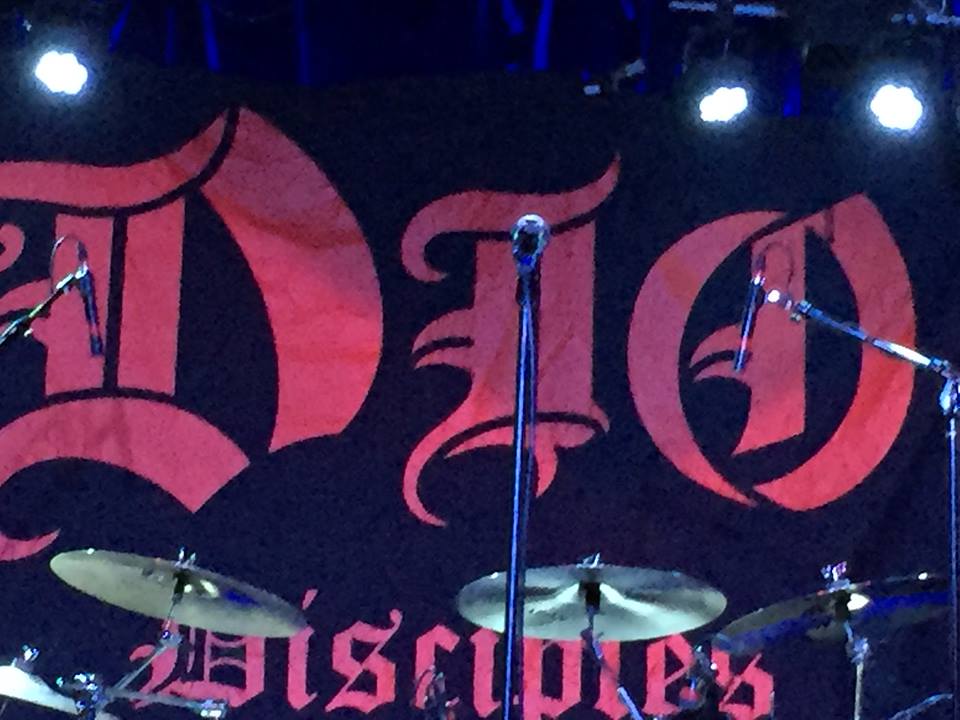 I had a chance to see DIO DISCIPLES recently in Portland (March 22, 2018 at Dante's). Following two opening bands, they took the stage around 10:45pm and opened with "Holy Diver."
Click Here to view more photos
Guitarist Craig Goldy played great but was pretty sedentary on his side of the stage, and much of the night had a scowl on his face LOL. Although he did come out just minutes after the show ended and autographed my friend's shirt that features various guitar player autographs. Goldy also did the selfies with fans and was "a cool dude"… just didn't come across on stage.
Tim "Ripper" Owens on vocals was spot on, sounded great and was totally respectful of the material. He seemed grateful to the crowd for being there. He really shined on "Egypt (The Chains Are On)", "Stand Up and Shout" and "The Last In Line".
They did a mini Rainbow set mid show with a song that "Ripper" said Glenn Hughes sung at Ronnie's funeral, "Catch the Rainbow", then "Long Live Rock 'n' Roll" and "Man on the Silver Mountain", which was played much closer to the original in tempo and guitar tone than when the DIO band with Vivian Campbell played it back in the day, which was more aggressive. Former Yngwie Malmsteen bassist Bjorn Englen and former AC/DC and DIO drummer Simon Wright were a good rhythm section. Former DIO and Heaven & Hell keyboardist Scott Warren also played with DIO Disciples on this night.
In short, great performances but waaaaay too much material to do just an hour, no matter if it's a school night on a Thursday. They played for an hour and five minutes, that's including an encore which was "Rainbow In the Dark" – Click Here for full setlist. I guess I get it if you charge $20 that you don't feel you need to play long. Would DIO himself have handled it this way? My hunch if you look at the last couple of solo club tours he did, the answer would be no. He probably played a full set, no matter what the ticket price. Ahhhhh, rock and roll economics for 2018 🙁
 
NOTES: The full show started a bit before 9pm. Splintered Thorne went first and was really good… some Saxon like vocals with metal growling every so often and some melodic choruses too. They have two CDs out and with a struggling local metal scene in Portland, they're worth a listen. The second band, Separation of Sanity, were more metal with tempo changes and Pantera like vocals and solos.
 
Photos courtesy of Mike Koreski.
 
Click Here to view more photos

'How's the lad?' and welcome to the wearing-o'-something-green edition of 'How's it going there' in 80's metal.

It's St. Patrick's Day, so below is a video performance of 'Whiskey In The Jar'. THIN LIZZY's version came out in 1972 and METALLICA's cover of Thin Lizzy's version was released in 1998. Since neither came out in the 80's, I flipped a coin and Thin Lizzy won, so "whack for my daddy-o, there's whiskey in the jar-o" to light up your day.

Seems everyday there is something new in the AC/DC guest singer saga. Now comes word that vocalist, Rob Liotti, who was chosen by filmmakers to portray the late Bon Scott in a biopic, has apparently had contact with the band about replacing lead singer, Brian Johnson. Liotti says "yes, I will confirm that I have had contact with the band – both directly and through third parties close to the AC/DC camp, but that's really all I can say."

Last week, former JUDAS PRIEST guitarist KK Downing said he would only consider a return to Priest if they embarked on a "greatest metal tour" with other giants of the genre, IRON MAIDEN and BLACK SABBATH sharing the bill. Well, Priest frontman Rob Halford says he loves the idea, saying "I think that's the dream of a lot of people, to imagine Maiden and Sabbath and Priest and Led Zeppelin. Can you imagine what that would be like at Wembley? Oh my God! It would just be mad. It would be like multiple nights. Forget about 50 shows that Michael Jackson didn't do. It would be 100 shows at Wembley. So, yeah, it's great to hear that there's that passion still in KK's voice for Priest."

A petition has been launched to erect a statue of RONNIE JAMES DIO in his birthtown of Portsmouth, New York.

On this date in 1984, VAN HALEN's 'Jump' peaked at No. 1 in the U.S. Over the years David Lee Roth has given various accounts of the meaning behind the lyrics, but most often says they are about a TV news story he saw where a man was about to kill himself by jumping off a building.

Happy Birthday to Bob Bohtelo listening to METAL SHOP in California.

That's a wrap. Make a little time to party today or a lot 😉 and thanks for checking in here, made even better by your comments and updates! "Have a drink on me" Metal Dogs! And have a Sham-ROCKIN' St. Patrick's Day!




Welcome to a Monday. We're those old fuckers that play those old heavy metal songs. METAL SHOP rolls out kick ass 80's metal and hard rock 24/7.

All your favorites are always in the mix, including IRON MAIDEN, JUDAS PRIEST, METALLICA, DIO, MÖTLEY CRÜE, MEGADETH, QUEENSRŸCHE, SCORPIONS, RATT, SLAYER, and more.

Listen also for the new ANTHRAX… 'Evil Twin' is coming up soon. The new album 'For All Kings' is excellent and cracked the U.S. Top 10 in its first week of release to land at position No. 9 on The Billboard 200 chart.

In a recent interview with vocalist Steve "Zetro" Souza of San Francisco Bay Area thrash metal veterans EXODUS, he said "we're not considered one of the [so-called] "Big Four" [of 1980s thrash metal, which consists of METALLICA, SLAYER, MEGADETH and ANTHRAX], and I hate that phrase. METALLICA is by far the biggest band in the world, so to put the other three in that category? No disrespect to MEGADETH, ANTHRAX or SLAYER; I love all of those bands, but I lived in the Bay Area when metal was being born, and everybody wanted to be like EXODUS. That goes from POSSESSED, LEGACY, DEATH ANGEL. It was not necessarily METALLICA, it was EXODUS. So, to me, that was the band that innovated and started it out."

Checkout this video an IRON MAIDEN fan uploaded of the official and bootleg merchandise stands at the band's March 3rd concert at Palacio De Los Deportes in Mexico City. METAL SHOP's Ralph Cartel noted that in Las Vegas, the official merchandise booth was out of control. In Mexico though, not a soul is buying a t-shirt inside the venue but if you go outside it's a whole different story.

Former ACCEPT singer Udo Dirkschneider is currently on tour where he is performing ACCEPT songs one last time before he closes the chapter for good, saying "I wanna close, like a book, and say, 'Okay, that's it. I read it.' Sometimes you have to come to an end with something. I wanna close up everything with ACCEPT. Click Here to read more and see video footage from Friday's show in Jyväskylä, Finland.

Happy Birthday to Linda Jarota listening to METAL SHOP in Pennsylvania, Chris Hiles listening in Washington State, Tony Nicholl listening in the U.K., and Jorge Zorrilla Diaz listening in Peru.

Have a good one all and stay dry out there.



Hi there! Back for another merry round of what's up in 80's Metal.

Photos, video and stories are coming from the big weekend of live metal in Las Vegas.

METAL SHOP listener Bianca Trujillo attended the MEGADETH concert last Friday (Feb. 26th). Check out her recap and photos at this location – Click Here

METAL SHOP's Ralph Cartel attended the IRON MAIDEN concert on Sunday (Feb. 28th). Check out his recap and photos – Click Here

A new Twitter account purportedly belonging to former GUNS N' ROSES guitarist Izzy Stradlin has appeared on the social media site, according to The Pulse Of Radio. Two sources have apparently confirmed to The Wall Street Journal reporter Neil Shah that the account is real, with Stradlin himself — or the person behind the account claiming to be Stradlin — tweeting a video of himself playing guitar. But more importantly, the first tweet from the @IzzyStradlin999 account on Feb. 22nd read, "At this point in time, I've no involvement in the upcoming April 2016 GNR shows."

Former DIO and current DEF LEPPARD guitarist Vivian Campbell was diagnosed with Hodgkin's lymphoma in 2013 and is continues to battle the disease, saying recently, "It keeps coming back. I've done three rounds of chemo, stem cell transplant and I really thought would be it with the stem cell transplant, but no, it came back, so I'm kind of resigned to the fact that I'll probably deal with the rest of my life. But I'm really not at all concerned with it; it's just maintenance. I put it on par with going to the dentist. It's a little bit more involved than that, but it's just something that I got to keep doing."

Today in 1997, a MÖTLEY CRÜE fan who claimed his hearing had been irreparably damaged after a show in New Jersey had his lawsuit thrown out of court. The judge told Clifford Goldberg who had sat near the front of the stage, knew the risk he was taking.

Happy Birthday to original SKID ROW drummer Rob Affuso. He turns 53 today.

On this date in 1982, KROKUS released their sixth album "One Vice at a Time", featuring the single "Long Stick Goes Boom" and today in 2005, JUDAS PRIEST released the album "Angel of Retribution", their first album since 1990's 'Painkiller' to feature Rob Halford.

That's all I've got so far. Check in, chime in….and thank you!



Hello, you! Time to crank up METAL SHOP on a Wednesday.

IRON MAIDEN kicks off 'The Book of Souls World Tour' tonight in Fort Lauderdale, Florida. They are the rulers of my 80's metal world and seem to be for many others as well… check out this great comment on the Maiden Facebook page, "Iron Maiden is everything that is right about metal. Iron Maiden was my childhood. Iron Maiden is my present. And now I can give this astounding gift to my son as we are going to the show together. \m/"

AC/DC currently tops 'Billboard's Hot Tours' chart. For their last three shows in the midwestern U.S., they were seen by nearly 50,000 fans. The lads from down under will next be in Houston, Texas on Friday (2/26).

Have you heard of the 'Hair Metal Awards'? I hadn't either, but this is a thing and the first annual will take place May 15th in Las Vegas. SCORPIONS will make an appearance to receive the "Classic Rock Outstanding Lifetime Achievement" award and German metal queen Doro Pesch will be presented with the "Metal Goddess" award. The first part of the show will be artists from the Sunset Strip era and the second half will feature more of the metal genre of national artists. QUIET RIOT and TWISTED SISTER will perform and there will be a tribute to MOTÖRHEAD's Lemmy Kilmister, which will include a performance by major metal stars.

LITA FORD has a new tell-all book out, where she describes an abusive relationship with BLACK SABBATH guitarist Tony Iommi. In a recent interview though, she says "Tony Iommi was my idol, him and Ritchie Blackmore. When I was growing up, the first concert I ever saw was BLACK SABBATH, when I was 13, and Tony Iommi was just like a God in my eyes; he was a hero to me, and still is. Even though… You have to read the book, but he was abusive, and that almost killed me — literally. And I didn't expect that from my superhero."

Today in 2003, bassist Robert Trujillo joined METALLICA, replacing Jason Newsted. Trujillo first gained prominence as the bassist for California thrash band Suicidal Tendencies. He was also a member of OZZY OSBOURNE's band for a number of years starting in the late 1990s.

Lee Aaron released the album "Metal Queen" today in 1984. Two years earlier, she posed topless for the men's magazine OUI, but later concluded in an interview that it damaged her musical credibility; she regretted the decision and assigned blame for it to pressure from her manager.

RONNIE JAMES DIO released the album "Inferno:Last In Live" today in 1998.

That's your morning 80's metal menu. Off to the radio factory now; see you there, and here. Thanks for being part of this!



We lost some hair along the way, gained a couple of pounds, got no retirement plans because we didn't plan on living this long, but we can still rock hard and if you look at it sideways we can still kick your ass like it ain't no thing, so let's toast the weekend about to start.

Happy Birthday to BLACK SABBATH Guitarist Tony Iommi. He turns 68 today. Did you know Iommi briefly played in Jethro Tull? Yes, for one performance, before returning to his bandmates (Ozzy, Geezer and Ward), who were known as 'Earth' back then before changing their name to Black Sabbath. Sabbath's "The End" tour stops in Detroit, Michigan tonight.

I just don't think TWISTED SISTER's Dee Snider can help himself. Right or wrong, he doesn't beat around the bush, this time saying he doesn't 'get' how 'murderer' Vince Neil 'didn't do any serious jail time' when his drunk-driving car crash killed HANOI ROCKS drummer Razzle in 1984. Snider continued: "And people are cool with that. They're like, 'Yeah, all right! Rock 'n' roll!!' And the guy didn't do any serious jail time. I'm, like, 'Really? Really? He's a murderer.' I don't get that at all."

Vivian Campbell was asked if he and Ronnie James DIO ever got to mend fences prior to the singer's 2010 death. He responded: "No. I never got to talk to Ronnie again afterwards, unfortunately. Actually, we only talked to each other through the press, which is never, ever, ever a good idea. We were both guilty of saying really stupid and hurtful things. I'd like to think that we would have made up. I think if Ronnie and I had bumped into each other on the street, I think after a couple of minutes, we might have agreed to go to the pub for a pint and we could have probably worked things out."

From one split-up to another, Sammy Hagar explained yesterday that he reached out to Eddie Van Halen on Twitter last month on Eddie's birthday because of the recent deaths of David Bowie and Glenn Frey, saying "It just makes you stop and think that, you know, with my relationship with Eddie Van Halen and stuff that's always been in the toilet, it makes you say, 'I don't want to be buried with any regrets or bad vibes like that.' It makes you want to be just friends with everybody and say, 'Hey, look, forget it.' Even if you don't want to be in a band together, just let's be friends. No more enemies for me. You don't want to go to your grave with enemies. So that's what it's done for me. It woke me up and said, 'no more enemies.' And before I die, I won't have any, if I have my way."

Speaking of Sammy Hagar, it was yesterday in 1977 when he was booed off the stage while opening for KISS. Hagar responded to the crowd with "F— you," and then proceeded to drop his pants and pull out his wang before smashing his '61 Stratocaster guitar to pieces and walking offstage. Check out the whole story – Click Here

On this date in 1980, AC/DC singer Bon Scott died after a night of heavy drinking. Left to sleep it off in a friend's car, he was found dead in the car the next morning. The official coroner's report labeled his demise as "death by misadventure" and "acute alcohol poisoning. He was 33 years old. R.I.P.

Today in 1982, Ozzy Osbourne was arrested in San Antonio, Texas for urinating on the Alamo. He was wearing a dress at the time of his arrest (his wife Sharon had hid all his clothes so he couldn't go outside). Ozzy apparently thought he was relieving himself on a pile of rubble and was subsequently banned from ever playing in San Antonio, Texas again, (the ban was lifted in 1992).

On this date in 1992, GUNS N' ROSES played the first of three nights at the Tokyo Dome in Tokyo, Japan as part of the 'Use Your Illusion' Tour and today in 1995, MÖTLEY CRÜE drummer Tommy Lee married Baywatch actress Pamela Anderson, who was wearing a white bikini, on a beach in Cancun, Mexico. They married only four days after meeting and had videotaped their sexual activities while on vacation, which was later stolen and released on the Internet. The couple divorced in 1998.

Tomorrow (Feb. 20, 2003), marks 13 years since the Station Nightclub Fire in West Warwick, Rhode Island. GREAT WHITE was performing that night, where 99 people died in the fire sparked by pyrotechnics.

Former WHITESNAKE and DIO guitarist Doug Aldrich is celebrating a birthday today. He turns 52.

Happy Birthday to Jessica McNear listening to METAL SHOP in Tennessee and Siva Prasad listening in India.

Don't forget METAL SHOP is on 24/7…. that means weekends too, so listen on the website, find us on TuneIn, or download the app to listen on your phone. Great thing to have. If you like more Hair in your metal, you can also check out our sister station HAIR BAND RADIO.



Here we go Monday Monday and Happy Birthday to former OZZY OSBOURNE and RATT Guitarist Jake E. Lee, who turns 59 today. Here is some wild 80's metal history for you… Did you know Ronnie James Dio invited Lee to join his new solo band DIO in 1982 before Vivian Campbell got the job? Lee had accepted, though his time in Dio's band was short-lived. According to drummer Vinny Appice, there were rehearsals with Lee and Dio and recordings of those rehearsals still exist. Lee claims to have written the main riff to "Don't Talk to Strangers" (which would later appear on the Holy Diver album) and that Dio wanted him to play "simple block chords that wouldn't trample on his vocals".

When Ozzy sought a permanent replacement for the deceased Randy Rhoads, he came to Los Angeles to audition lead guitarists. Bassist Dana Strum, who had recommended Rhoads to Osbourne in 1979, this time recommended Lee for the job. Osbourne was torn between Lee and DOKKEN guitarist George Lynch. Though Osbourne is said to have initially chosen Lynch, he soon changed his mind and Lee became his full-time guitarist for the next five years.

LITA FORD is releasing a tell-all-book next week and opens up about her wild life on the '80s music scene, including dalliances with Jon Bon Jovi, Eddie Van Halen and BLACK SABBATH guitar legend Tony Iommi. Her relationship with Iommi allegedly began with a failed attempt at sex as he was "too high" on cocaine. "He was impotent from his constant drug use, and he was very embarrassed. I felt bad for him and didn't really know what to do. Eventually, I got him off." Ford also alleges the relationship with Iommi was abusive. You can read more at this location – Click Here

Well, it's time to put the fun back in funeral my friends and celebrate a bunch of dead presidents. Maybe you have the day off for President's Day in the U.S. If you do, "Cheers!" If not, "Cheers!" to you too.



You know it's Friday because the volume on your 80's metal has gone up a little before you crank it to 11 at the end of the day.

30 years ago this year, METALLICA released their finest album "Master Of Puppets" and to celebrate will be releasing a book in the fall on the making of that classic 1986 record. The bands says they hit the storage lockers, attics and basements to fill the book with hundreds of never-before-seen images pulled from their personal archives. Highlights includes interviews with members of the bands who toured with Metallica, ANTHRAX and ARMORED SAINT and Cliff Burton's dad Ray sat down for an extensive interview.

What a trip last weekend for METAL SHOP's Ralph Cartel, who made the 400 mile drive from Los Angeles to San Francisco to see the Metallica Pre-Super Bowl Concert. His recap that includes a link to the entire concert in HD is on the METAL SHOP website.

Former Dio and Whitesnake guitarist Vivian Campbell (currently playing with Last In Line and Def Leppard), who has been battling cancer since 2013, was recently asked why he continues to tour and not simply stay at home given his health issues. He replied, "That to me would be the death sentence. My work is catharsis for me. There's nothing that brings me greater happiness. All I ever wanted to do in my life was play guitar in a band. I couldn't imagine anything worse than staying at home just me and my illness." Catch more of the interview at this location – Click Here

On this date in 1982, IRON MAIDEN released the single "Run To The Hills" from the album "The Number Of The Beast" and MÖTLEY CRÜE began the first of a three night run at the world famous Whisky A Go Go in L.A. Were you there? We would love to hear your memories and see photos if you have any.

For #FBF, check out the photo below posted by KROKUS on their Facebook page of the Single/45 record release of 1984's "The Blitz". Did you know Krokus was the first musical act from Switzerland to hit the Billboard Hot 100 in the U.S. with "Midnite Maniac" from that same "Blitz" album?

Don't forget Valentine's Day is Sunday and METAL SHOP's sister station HAIR BAND RADIO is celebrating with all Power Ballads, Love Songs & Breakup Songs all day. Give your sweetie a squeeze and tune in here

Have a great weekend.



Time to kick Tuesday's ass with 80's metal and hard rock… Maiden, Priest, Metallica, DIO, Crue, Scorps, RATT, Megadeth, W.A.S.P., Dokken and more spin 24/7 on METAL SHOP.

Happy Birthday to SKID ROW founder and bassist Rachel Bolan (real name: James Richard Southworth). His stage name 'Bolan' is a tribute to one of his childhood idols, T. Rex frontman, Marc Bolan. Did you know Rachel Bolan sang back-up vocals on Mötley Crüe's Dr. Feelgood album?

Late MOTÖRHEAD frontman, Lemmy Kilmister was a regular at The Rainbow Bar & Grill on the Sunset Strip in Hollywood, CA. A memorial was held there on the day of Lemmy's funeral on January 9th and a mural was painted on the bar's wall as a mark of respect. Now, a life-size bronze statue of Lemmy will be erected outside the venue.

From the WTF file, former QUEENSRŸCHE Singer Geoff Tate Is Working On Jazz Album.

Dave Mustaine has discussed the possibility of re-recording MEGADETH's debut 'Killing Is My Business… and Business Is Good!' with the band's current lineup, saying "If I did go back and record any old songs, it would probably be like a brand new interpretation of our greatest hits, because I think that focusing on any one record and showing an interpretation of all of our great songs by a new lineup would be more exciting. You never know. We might do that."

Really excited for IRON MAIDEN's return to the states in two weeks. The Book Of Souls World Tour starts Feb. 24th in Sunrise, FL. Maiden posted the photo below on the band's Facebook page yesterday with the caption "We're still packing!! Glad it's a big plane…"

Have a rockin' day!



Blabbermouth: 'Finding The Sacred Heart – DIO 'Live In Philly 1986' DVD will be released on May 28, 2013 via Eagle Vision.

"Finding The Sacred Heart – Live In Philly 1986" was filmed at The Spectrum in Philadelphia on June 17, 1986 during the second leg of the "Sacred Heart" tour, which featured new guitarist Craig Goldy. The show was issued in an edited form first on VHS and then DVD. Now for the first time the full concert is being released in the original running order, restored from the original 16mm film and with remastered sound. It's an extraordinary live show with a giant animatronic dragon towering over the stage and spectacular lasers and pyrotechnics. Ronnie James Dio is in fine voice as ever and the band deliver a blistering live performance featuring tracks from their first three albums alongside BLACK SABBATH and RAINBOW classics.


"Finding The Sacred Heart – Live In Philly 1986" track listing:

01. Draco Ignis
02. King Of Rock And Roll
03. Like The Beat Of A Heart
04. Don't Talk To Strangers
05. Hungry For Heaven
06. Medley: 'The Last In Line / Children Of The Sea / Holy Diver / The Last In Line (reprise)
07. Drum Solo
08. Heaven And Hell
09. Keyboard Solo
10. Guitar Solo
11. Sacred Heart
12. Medley: Rock 'n' Roll Children / Long Live Rock 'n' Roll / Man On The Silver Mountain / Rock 'n' Roll Children (reprise)
13. Time To Burn
14. Stand Up And Shout
15. Rainbow In The Dark
16. We Rock

Bonus features include:

* "Sacred Heart Tour" Featurette
* Interview '86
* Interview with Ronnie & Craig
* "Rock 'n' Roll Children" music video
* Behind The Scenes

The "King Of Rock And Roll" performance clip, taken from "Finding The Sacred Heart – Live In Philly 1986", can be seen below.

"Finding The Sacred Heart – Live In Philly 1986" will also be released on Blu-ray, CD and LP.

DIO's lineup on the DVD:

Ronnie James Dio – Vocals
Jimmy Bain – Bass
Vinny Appice – Drums
Craig Goldy – Guitar
Claude Schnell – Keyboards