Saxon

Recap from Metal Mike Koreski in Portland, Oregon (4/17/18), Additonal photos from Ralph Cartel in Los Angeles, California (4/22/18)
What an atmosphere for Tuesday night's show at the Portland Memorial Coliseum. The Portland Trailblazers were playing game two of the first round of the NBA playoffs. Then across the courtyard was a near sellout crowd of a different sort….some younger, mostly older metal fans who came out for a BIG night of 80's metal music featuring Judas Priest and Saxon!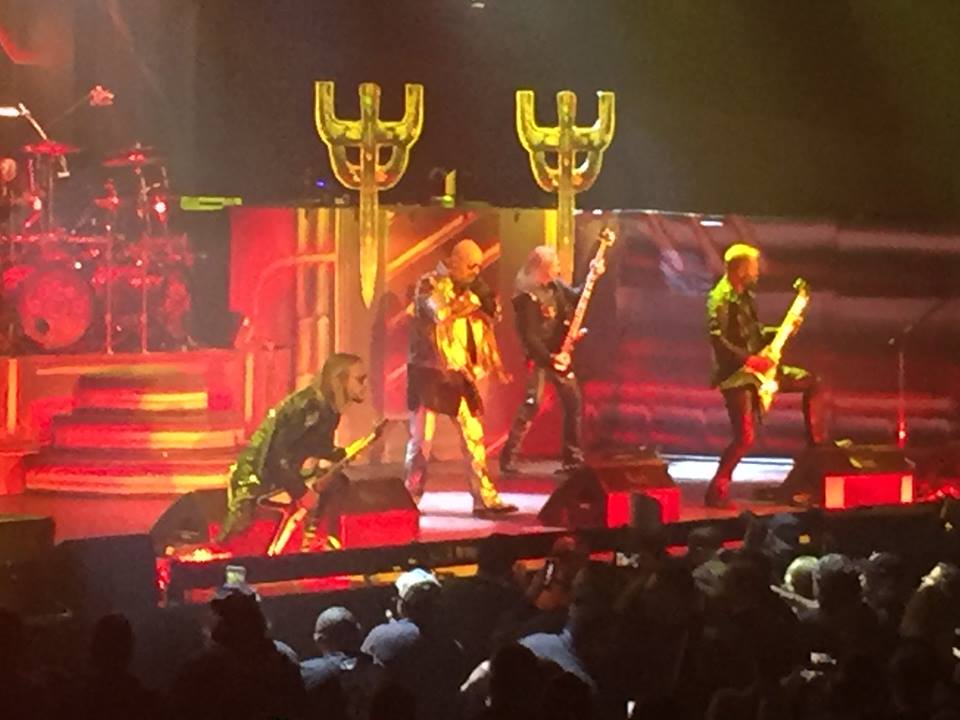 Judas Priest is riding a wave of momentum right now… 70's/80's hard rock/heavy metal is more accessible at arenas and clubs these days as it used to be during those decades when many of the bands were earning the "classic" status they have now.
The latest Priest release "Firepower" is very good (in my opinion their best work since Painkiller in the early 90's), and the unfortunate circumstances with original guitar player Glenn Tipton (who has Parkinson's and is to the point where he can't tour anymore) have also caused fans to realize you better see these groups now while you can as you truly never know when they are done.
Click Here to view more photos
Opening the night was Black Star Riders, which was originally a latter day version of Thin Lizzy, centered around one of the key guitarists, Scott Gorham and singer/guitarist Ricky Warrick, who changed their name when they decided to make new music, but still play some Thin Lizzy classics and deep cuts. This show featured "Jailbreak" as the second song into their tight 40 minute set. The band is good… some good energy on stage… Warrick in particular is a VERY intense performer.
Next up was Saxon, one of the original NWOBHM (New Wave of British Heavy Metal) bands. Their close to one hour set was split between selections from their latest scorching release, "Thunderbolt" (the title track was the opener and as well it should've been), and classic tracks such as "Power and the Glory", "Denim & Leather" and "Dallas 1pm".
Saxon vocalist Biff Byford was my vote for MVP of the night… amazing stage presence, knows how to work the crowd and his voice was amazingly strong for being several decades in use. Oh yeah, and he looked very regal in a double breasted revolutionary-war-looking coat… so metal, LOL. The bass player for Saxon was the craziest stage performer I've seen in decades. The guy was doing the best animal from the Muppets imitation ever and his head would just continually thrash during most of the songs. He also ran the whole stage, stood on the front stage amps and embodied how Saxon are still a vital band for fans of this genre. By the way, pick up "Thunderbolt", you WILL NOT be disappointed!
And then it was time for the main event. Judas Priest opened their set with the title track off their latest face melting release "Firepower", and the rest of the set didn't disappoint. They played "Freewheel Burning" on this tour for the first time in a looooong time, and my favorite song of the night was the "Screaming For Vengeance" deep track "Bloodstone". Guitarist Andy Sneap (who co-produced Firepower and was Tipton's choice to replace him on tour) had a chance to shine on this song and a few others, but Richie Faulkner is the featured player in the band now.
The second half of the show was loaded with more of the sing along chorus songs that allowed vocalist Rob Halford to have the crowd sing them, giving him a small break on "Turbo Lover", "Hell Bent for Leather" and "You've Got Another Thing Comin'.
And then, the big reveal… Glenn Tipton came out for the encore and played for only the third show of the tour so far (he played at the Kent, WA show two nights earlier). The encore was "Metal Gods", "Breaking the Law" and the finisher, the gigantic sing along "Livin' After Midnight".
Click Here to view more photos
A couple of points about this show… all three bands have new discs out and you really should be purchasing them, as they are worthy of being listened to in sequence, not on a music service playlist with several other bands, even though you just wanted one. Also, support live music when these and several other "vintage" artists come to town (see Rich Rock's Y&T review for an example). Many bands bring it better than they have in years.