Armored Saint
80's Metal Perfect Pairing: Armored Saint Metal Church
Since December I have seen Motley Crue, AC/DC and Iron Maiden live. Arena Rock is great, but these bands all started in some club somewhere. And there is just something about a small club that takes you back to the early hungry days as bands work to make a name for themselves.
Saturday night's Armored Saint Metal Church concert at the Hawthorne Theatre (capacity -620) in Portland, Oregon on Saturday, June 11, 2016, had that feel and it was awesome. Putting these bands together for a tour was a great idea, but too short as this was the final show.
Armored Saint
A friend of mine who attended said "Armored Saint was crazy good!!! The energy there was just something you don't see at many shows! There was some urgency to it! Still buzzing from it, rhythm section was amazing!"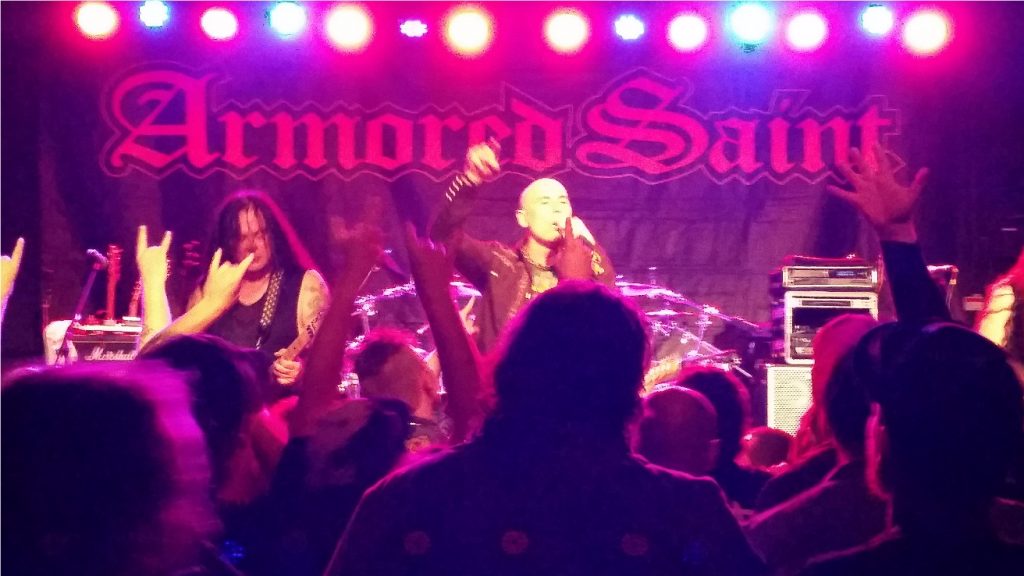 This co-headline tour featured each band switching off each night and on this stop, Armored Saint took the stage first. The last time they played here was 2001 at the Roseland Theatre. At the time though, that venue had a different name and lead singer John Bush asked the crowd what is was called? (Starry Night).
I loved the localized banter from Bush between songs. We know most singers just repeat the same lines each night, but Bush was specific to Portland on most things he talked about, including playing here with Metallica in the early 80's and the time he threw out his armour costume into the crowd… "somebody here tonight still have that?" he asked. Speaking of which, there aren't too many photos out there of the 1984 tour, but I found one here courtesy of the Kevin Estrada Blog.
Armored Saint opened with the great new song 'Win Hands Down' and their setlist included all the classics we know and love… 'March of the Saint', 'Long Before I Die', 'Reign of Fire' and 'Can U Deliver'.
My friend continued, "Armored Saint should've headlined and their set wasn't long enough! John Bush was the star this night! That voice is just flawless! My fav moment was when Bush nailed that scream in the middle of "Can U Deliver"!
Yes, I felt that… I'm still buzzing too. And how about Bush jumping into the crowd to surf? The dude is 52… that was killer! A guy next to me was at the Seattle show the night before and I thought "you drove down here to see it again?" I get it though. Hope they come back soon.
Metal Church
Around 11:30, Metal Church hit the stage, opening with 'Fake Healer.' The crowd was just as fired up for this one and with Mike Howe back on vocals, the night just felt special, like how lucky are we to see this great concert.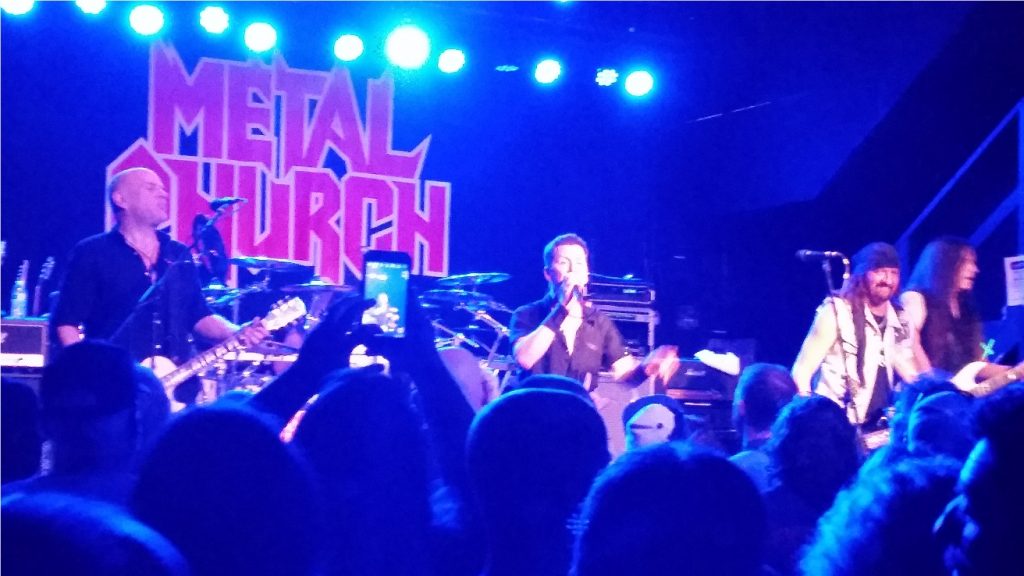 The mosh pit was non-stop during both shows. My 17 year-old son and I were separated from the pit by only one row of humans, who did a good job pushing the moshers back in, but we got bumped a few times. When Metal Church launched into 'Start the Fire', I felt like I might want to join the pit, but I came to my senses and perished the thought.
There were quite a few tracks from the new album in their 13 song set, including 'No Tomorrow'. Most of the setlist featured songs from the Church albums Howe sung on from 1988 to 1994, including 'In Mourning', 'Date with Poverty' and 'Badlands'.
Only one song was played from their 1984 debut album and it was 'Beyond the Black'. Howe joked with guitarist Kurdt Vanderhoof that this song was written the day he was born.
This West Coast USA tour lasted all of seven dates. I'm not sure if it was a test run or something, but it was one of the best 80's metal concerts I have attended. The small club feel and sound combined with musicians who have been playing together for 30+ years in some cases, made for an enthralling performance from both of these great bands.

You know it's Friday because the volume on your 80's metal has gone up a little before you crank it to 11 at the end of the day.

30 years ago this year, METALLICA released their finest album "Master Of Puppets" and to celebrate will be releasing a book in the fall on the making of that classic 1986 record. The bands says they hit the storage lockers, attics and basements to fill the book with hundreds of never-before-seen images pulled from their personal archives. Highlights includes interviews with members of the bands who toured with Metallica, ANTHRAX and ARMORED SAINT and Cliff Burton's dad Ray sat down for an extensive interview.

What a trip last weekend for METAL SHOP's Ralph Cartel, who made the 400 mile drive from Los Angeles to San Francisco to see the Metallica Pre-Super Bowl Concert. His recap that includes a link to the entire concert in HD is on the METAL SHOP website.

Former Dio and Whitesnake guitarist Vivian Campbell (currently playing with Last In Line and Def Leppard), who has been battling cancer since 2013, was recently asked why he continues to tour and not simply stay at home given his health issues. He replied, "That to me would be the death sentence. My work is catharsis for me. There's nothing that brings me greater happiness. All I ever wanted to do in my life was play guitar in a band. I couldn't imagine anything worse than staying at home just me and my illness." Catch more of the interview at this location – Click Here

On this date in 1982, IRON MAIDEN released the single "Run To The Hills" from the album "The Number Of The Beast" and MÖTLEY CRÜE began the first of a three night run at the world famous Whisky A Go Go in L.A. Were you there? We would love to hear your memories and see photos if you have any.

For #FBF, check out the photo below posted by KROKUS on their Facebook page of the Single/45 record release of 1984's "The Blitz". Did you know Krokus was the first musical act from Switzerland to hit the Billboard Hot 100 in the U.S. with "Midnite Maniac" from that same "Blitz" album?

Don't forget Valentine's Day is Sunday and METAL SHOP's sister station HAIR BAND RADIO is celebrating with all Power Ballads, Love Songs & Breakup Songs all day. Give your sweetie a squeeze and tune in here

Have a great weekend.


Who Are The Top 20 Metal Bands Of All Time?

Depends who you ask and how they define who is metal or just hard rock. For example, many agree that Metalica, Iron Maiden and Judas Priest are metal, but KISS, AC/DC and Guns N' Roses are not metal.

That is how the authors of the new book 'The Merciless Book of Metal Lists' see it in one of several indexes they compiled for this release set for April 9, 2013 by Abrams Image.

Howie Abrams and Sacha Jenkins' book features numerous compilations of bests (songs, guitarists, album covers featuring goats) and worsts (embarrassing metal videos, metal fashion faux pas').

80's metal fans will also surely appreciate unconventional lists such as: '10 Reasons Why EVERYONE Loves Slayer's 'Reign In Blood" and '10 Accomplishments Iron Maiden Would Never Have Achieved had Paul Di'Anno Remained Their Singer'.

One of the lists sure to spark some debate is '20 of the Greatest Metal Voices.' They nailed the top three (my opinion) and Queensryche's Geoff Tate certainly deserves a top five appearance:


1. Ronnie James Dio (Black Sabbath, Dio)
2. Rob Halford (Judas Priest)
3. Bruce Dickinson (Iron Maiden)
4. Eric Adams (Manowar)
5. Geoff Tate (Queensrÿche)
6. King Diamond (Mercyful Fate, King Diamond)
7. Tom Araya (Slayer)
8. John Bush (Armored Saint/Anthrax)
9. James Hetfield (Metallica)
10. Max Cavalera (Sepultura, Soulfly)

In an interview with the New York Times, Abrams said Dio was the unanimous choice for the top spot because he had a virtuosity that set him far apart from other top metal vocalists.

"If he needed to apply darkness, he could do it," said Abrams. "If he needed to belt and go to a higher range, he could. He replaced Ozzy Osbourne in Black Sabbath, and I'm not sure there was a taller task for a vocalist. He did it with ease and grace, and he may have improved on what Oz did in the first place."

'The Merciless Book of Metal Lists' is a fun read. I especially enjoyed viewing the artwork from '200 Embarrassingly Bad Album Covers'… Anthrax took the top two spots with 'State of Euphoria' and number one 'Fistful of Metal.'



Armored Saint guitarist Phillip Sandoval made a special guest appearance at 'Rock A Bello' on Saint Patrick's Day (March 17, 2013).

Held in Montebello, California and hosted by METAL SHOP Rocks, Rock A Bello was a first of its kind music fest, featuring great local bands out of Southern California.

Sandoval was a special guest for the day/night event, taking photos with fans before getting on stage and rocking 'God Save the Queen' with local cover band H8TORADE.


Noisecreep: Among the many mighty metal milestones of 2012, the 30th birthday of Metal Blade Records stands as an amazing testament to the strength of metal devotion. Label founder Brian Slagel became a businessman almost by accident. He was a die-hard fan first, and editor of the fanzine New Heavy Metal Revue. Scraping together funding from money he saved while working at Sears, and a loan from his aunt, Slagel in 1982 created Metal Massacre, a Southern California-centered compilation to answer the countless label showcase collections of Britain's NWOBHM.

From that first release, which introduced the world to Metallica and Ratt, Metal Blade Records was born. Over most of the next decade, the next installments of the Metal Massacre compilation series unveiled some of the greatest names in metal, including Slayer, Trouble, Voivod, Fates Warning, and Hellhammer.

METALLICA: The band that had the least going for it at the time of this record's release has gone onto become the biggest rock band in the world. When Mötley Crüe bailed on Slagel's compilation project, he offered his tape trader pal Lars Ulrich the slot if he could scrape together a band in time. Ulrich persuaded James Hetfield to join him, and for the initial release, Jamaican guitarist Lloyd Grant appeared as a guest soloist patched into the mix to play the leads. Future pressings included a different recording of the song with Dave Mustaine handling the trademark over-the-top trills.

RATT: A much more typical Southern California metal act than Metallica, Ratt were San Diego transplants to the Sunset Strip. Awestruck by Van Halen but chained down with a lean and relentlessly melodic double-guitar sound, Ratt cruised through a string of multi-platinum, platinum, and gold records and remain a musical and commercial highlight of the glam metal era.

ARMORED SAINT: Like many bands on the L.A. club circuit, Armored Saint relied heavily on image, but their studded leather armor was a far cry from the spandex and mascara of Mötley Crüe. Singer John Bush was openly courted by young Metallica, but he refused to leave his boyhood pals in this band. After Armored Saint's early record deal with Chrysalis Records went South, Bush joined Anthrax for over a decade, and has since returned to his original armored homies.

This is a fascinating read. Check out more reviews of those auspicious debuts, in honor of three decades of Metal Blade, plus hear audio from these early recordings at Noisecreep.com.

KNAC Interview with Armored Saint Frontman John Bush:

"At this point in my life, not playing that often and doing long, grueling tours where you do ten shows in a row, and then a day off, and then nine in a row. I see bands still doing that stuff and I just marvel at it, because I wouldn't be able to do that any longer. It's not the way I sing. I sing with a very aggressive approach and I've been told for years, 'You gotta back off. Don't push so hard.' I try not to do that, because I really want to try not to suck, in all honesty. I also feel that I'm a better singer now than I ever was. I just think I'm more in touch with what I can and what I cannot do. My voice has found a good little area where it's raspy but it's strong, and I probably know how to sing better than I did 25 years ago, when I was just trying to sing high and try to emulate some of my heroes. I wasn't really there. Rob Halford was always the king, but I couldn't sing like him. I was more like a Steven Tyler-kind of singer. It was about finding my niche and my personality and letting that kind of shine through. And to me that's the most important thing to being a musician as a whole, or really a singer, is to kind of let your personality be the thing that people can connect with. You know who somebody is by the tone of their voice, by the style of their singing, by the playing of their guitar. And that, to me, is more important than anything. I don't know how great of a guitar player, in terms of technical abilities, someone like The Edge is, but it's just undeniable when you hear his playing. That's him."