80's Metal Perfect Pairing: Armored Saint Metal Church
Since December I have seen Motley Crue, AC/DC and Iron Maiden live. Arena Rock is great, but these bands all started in some club somewhere. And there is just something about a small club that takes you back to the early hungry days as bands work to make a name for themselves.
Saturday night's Armored Saint Metal Church concert at the Hawthorne Theatre (capacity -620) in Portland, Oregon on Saturday, June 11, 2016, had that feel and it was awesome. Putting these bands together for a tour was a great idea, but too short as this was the final show.
Armored Saint
A friend of mine who attended said "Armored Saint was crazy good!!! The energy there was just something you don't see at many shows! There was some urgency to it! Still buzzing from it, rhythm section was amazing!"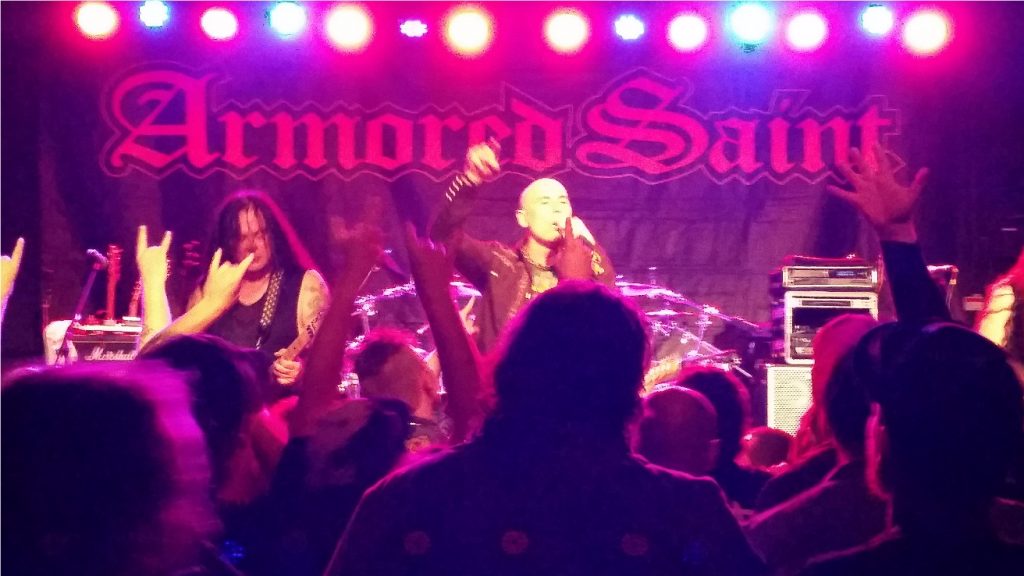 This co-headline tour featured each band switching off each night and on this stop, Armored Saint took the stage first. The last time they played here was 2001 at the Roseland Theatre. At the time though, that venue had a different name and lead singer John Bush asked the crowd what is was called? (Starry Night).
I loved the localized banter from Bush between songs. We know most singers just repeat the same lines each night, but Bush was specific to Portland on most things he talked about, including playing here with Metallica in the early 80's and the time he threw out his armour costume into the crowd… "somebody here tonight still have that?" he asked. Speaking of which, there aren't too many photos out there of the 1984 tour, but I found one here courtesy of the Kevin Estrada Blog.
Armored Saint opened with the great new song 'Win Hands Down' and their setlist included all the classics we know and love… 'March of the Saint', 'Long Before I Die', 'Reign of Fire' and 'Can U Deliver'.
My friend continued, "Armored Saint should've headlined and their set wasn't long enough! John Bush was the star this night! That voice is just flawless! My fav moment was when Bush nailed that scream in the middle of "Can U Deliver"!
Yes, I felt that… I'm still buzzing too. And how about Bush jumping into the crowd to surf? The dude is 52… that was killer! A guy next to me was at the Seattle show the night before and I thought "you drove down here to see it again?" I get it though. Hope they come back soon.
Metal Church
Around 11:30, Metal Church hit the stage, opening with 'Fake Healer.' The crowd was just as fired up for this one and with Mike Howe back on vocals, the night just felt special, like how lucky are we to see this great concert.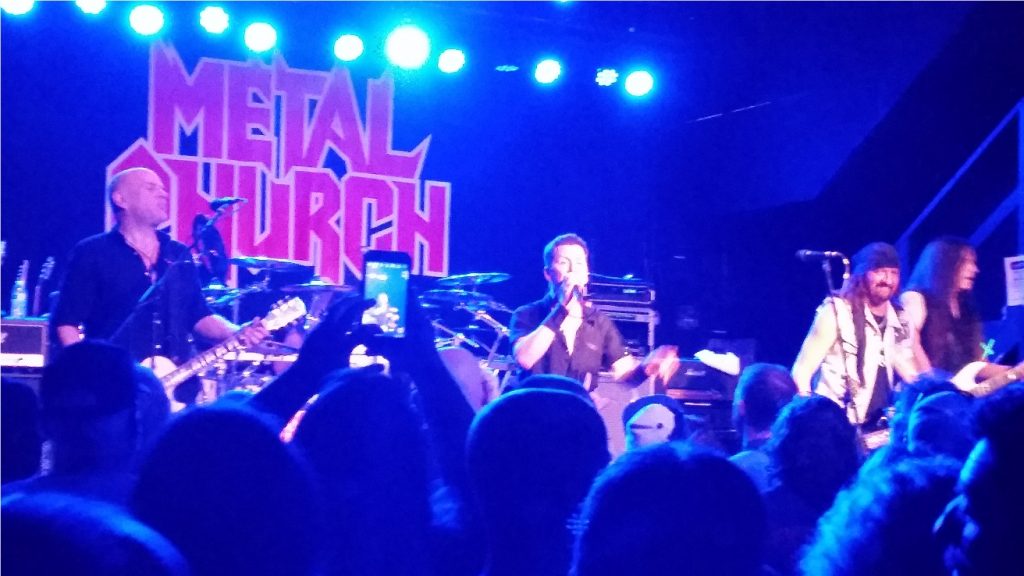 The mosh pit was non-stop during both shows. My 17 year-old son and I were separated from the pit by only one row of humans, who did a good job pushing the moshers back in, but we got bumped a few times. When Metal Church launched into 'Start the Fire', I felt like I might want to join the pit, but I came to my senses and perished the thought.
There were quite a few tracks from the new album in their 13 song set, including 'No Tomorrow'. Most of the setlist featured songs from the Church albums Howe sung on from 1988 to 1994, including 'In Mourning', 'Date with Poverty' and 'Badlands'.
Only one song was played from their 1984 debut album and it was 'Beyond the Black'. Howe joked with guitarist Kurdt Vanderhoof that this song was written the day he was born.
This West Coast USA tour lasted all of seven dates. I'm not sure if it was a test run or something, but it was one of the best 80's metal concerts I have attended. The small club feel and sound combined with musicians who have been playing together for 30+ years in some cases, made for an enthralling performance from both of these great bands.