Mike Metal

Recap from Metal Mike Koreski in Portland, Oregon (4/17/18), Additonal photos from Ralph Cartel in Los Angeles, California (4/22/18)
What an atmosphere for Tuesday night's show at the Portland Memorial Coliseum. The Portland Trailblazers were playing game two of the first round of the NBA playoffs. Then across the courtyard was a near sellout crowd of a different sort….some younger, mostly older metal fans who came out for a BIG night of 80's metal music featuring Judas Priest and Saxon!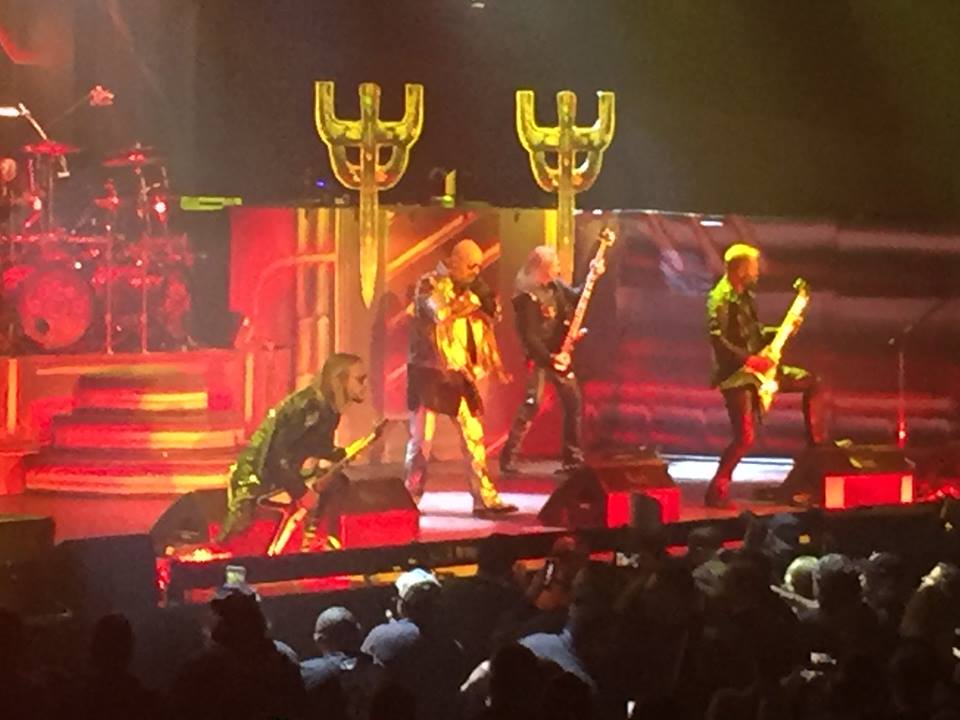 Judas Priest is riding a wave of momentum right now… 70's/80's hard rock/heavy metal is more accessible at arenas and clubs these days as it used to be during those decades when many of the bands were earning the "classic" status they have now.
The latest Priest release "Firepower" is very good (in my opinion their best work since Painkiller in the early 90's), and the unfortunate circumstances with original guitar player Glenn Tipton (who has Parkinson's and is to the point where he can't tour anymore) have also caused fans to realize you better see these groups now while you can as you truly never know when they are done.
Click Here to view more photos
Opening the night was Black Star Riders, which was originally a latter day version of Thin Lizzy, centered around one of the key guitarists, Scott Gorham and singer/guitarist Ricky Warrick, who changed their name when they decided to make new music, but still play some Thin Lizzy classics and deep cuts. This show featured "Jailbreak" as the second song into their tight 40 minute set. The band is good… some good energy on stage… Warrick in particular is a VERY intense performer.
Next up was Saxon, one of the original NWOBHM (New Wave of British Heavy Metal) bands. Their close to one hour set was split between selections from their latest scorching release, "Thunderbolt" (the title track was the opener and as well it should've been), and classic tracks such as "Power and the Glory", "Denim & Leather" and "Dallas 1pm".
Saxon vocalist Biff Byford was my vote for MVP of the night… amazing stage presence, knows how to work the crowd and his voice was amazingly strong for being several decades in use. Oh yeah, and he looked very regal in a double breasted revolutionary-war-looking coat… so metal, LOL. The bass player for Saxon was the craziest stage performer I've seen in decades. The guy was doing the best animal from the Muppets imitation ever and his head would just continually thrash during most of the songs. He also ran the whole stage, stood on the front stage amps and embodied how Saxon are still a vital band for fans of this genre. By the way, pick up "Thunderbolt", you WILL NOT be disappointed!
And then it was time for the main event. Judas Priest opened their set with the title track off their latest face melting release "Firepower", and the rest of the set didn't disappoint. They played "Freewheel Burning" on this tour for the first time in a looooong time, and my favorite song of the night was the "Screaming For Vengeance" deep track "Bloodstone". Guitarist Andy Sneap (who co-produced Firepower and was Tipton's choice to replace him on tour) had a chance to shine on this song and a few others, but Richie Faulkner is the featured player in the band now.
The second half of the show was loaded with more of the sing along chorus songs that allowed vocalist Rob Halford to have the crowd sing them, giving him a small break on "Turbo Lover", "Hell Bent for Leather" and "You've Got Another Thing Comin'.
And then, the big reveal… Glenn Tipton came out for the encore and played for only the third show of the tour so far (he played at the Kent, WA show two nights earlier). The encore was "Metal Gods", "Breaking the Law" and the finisher, the gigantic sing along "Livin' After Midnight".
Click Here to view more photos
A couple of points about this show… all three bands have new discs out and you really should be purchasing them, as they are worthy of being listened to in sequence, not on a music service playlist with several other bands, even though you just wanted one. Also, support live music when these and several other "vintage" artists come to town (see Rich Rock's Y&T review for an example). Many bands bring it better than they have in years.

In 2016, former DIO guitarist Vivian Campbell was quoted as saying that DIO DISCIPLES, a band made up of former members of DIO, along with a rotating lineup of singers, including former Judas Priest frontman Tim "Ripper" Owens, have "zero credibility" as a Ronnie James Dio tribute project despite the fact that the band is fully supported by Ronnie's widow/manager, Wendy.

Campbell had his own DIO tribute in LAST IN LINE, that band featured original DIO drummer Vinny Appice and bassist Jimmy Bain, who passed away in January 2016, alongside singer Andrew Freeman. Since then Campbell continues to play with Def Leppard and Appice, who called the formation of DIO DISCIPLES "disgusting" in 2011, performed with them just two years later, saying "it's not disgusting anymore.' The problem was they did it a couple of months after Ronnie passed, and then I thought it was awful; it wasn't the right time. Now they can do whatever they want; it's cool."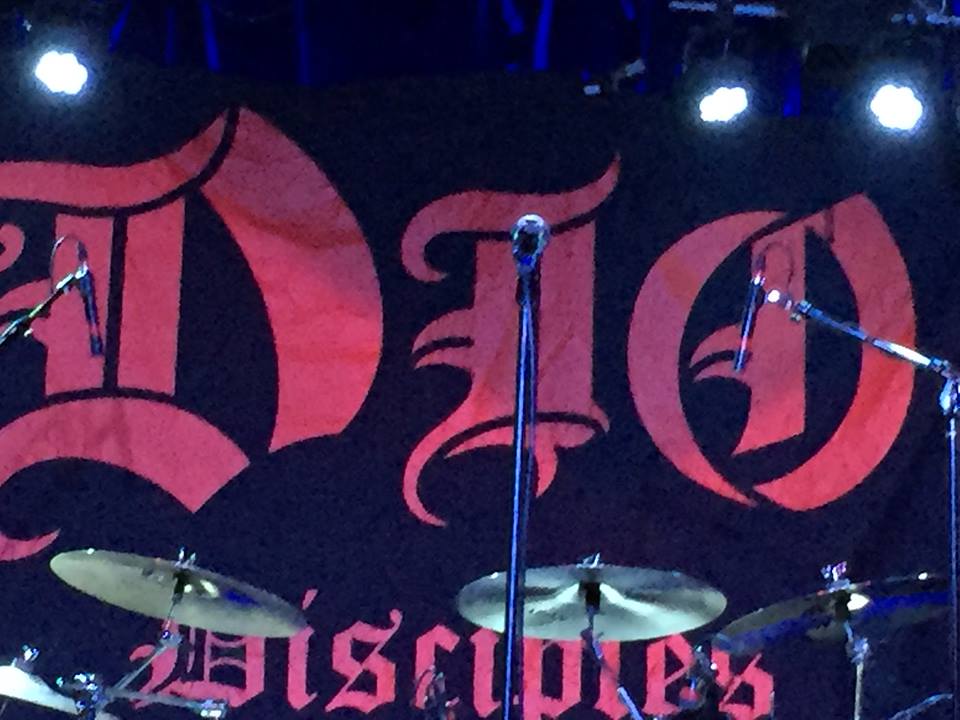 I had a chance to see DIO DISCIPLES recently in Portland (March 22, 2018 at Dante's). Following two opening bands, they took the stage around 10:45pm and opened with "Holy Diver."
Click Here to view more photos
Guitarist Craig Goldy played great but was pretty sedentary on his side of the stage, and much of the night had a scowl on his face LOL. Although he did come out just minutes after the show ended and autographed my friend's shirt that features various guitar player autographs. Goldy also did the selfies with fans and was "a cool dude"… just didn't come across on stage.
Tim "Ripper" Owens on vocals was spot on, sounded great and was totally respectful of the material. He seemed grateful to the crowd for being there. He really shined on "Egypt (The Chains Are On)", "Stand Up and Shout" and "The Last In Line".
They did a mini Rainbow set mid show with a song that "Ripper" said Glenn Hughes sung at Ronnie's funeral, "Catch the Rainbow", then "Long Live Rock 'n' Roll" and "Man on the Silver Mountain", which was played much closer to the original in tempo and guitar tone than when the DIO band with Vivian Campbell played it back in the day, which was more aggressive. Former Yngwie Malmsteen bassist Bjorn Englen and former AC/DC and DIO drummer Simon Wright were a good rhythm section. Former DIO and Heaven & Hell keyboardist Scott Warren also played with DIO Disciples on this night.
In short, great performances but waaaaay too much material to do just an hour, no matter if it's a school night on a Thursday. They played for an hour and five minutes, that's including an encore which was "Rainbow In the Dark" – Click Here for full setlist. I guess I get it if you charge $20 that you don't feel you need to play long. Would DIO himself have handled it this way? My hunch if you look at the last couple of solo club tours he did, the answer would be no. He probably played a full set, no matter what the ticket price. Ahhhhh, rock and roll economics for 2018 🙁
 
NOTES: The full show started a bit before 9pm. Splintered Thorne went first and was really good… some Saxon like vocals with metal growling every so often and some melodic choruses too. They have two CDs out and with a struggling local metal scene in Portland, they're worth a listen. The second band, Separation of Sanity, were more metal with tempo changes and Pantera like vocals and solos.
 
Photos courtesy of Mike Koreski.
 
Click Here to view more photos