Count me as an 80's metal fan that wasn't overly excited about a Guns N' Roses reunion tour when it was announced on April 1st of this year (it could have been a joke anyway, right?). Sure, we heard Axl and Slash were talking and supposedly had buried the hatchet, but I had images of a fat Axl and a reluctant Slash getting along just long enough for a major money haul.

The latter may still be true and if it wasn't for my 17 year old son really wanting to see his new favorite band, I am not sure I would have gone. But after seeing the mostly original GnR lineup (Axl, Slash, Duff) perform in Seattle on Friday, August 12, 2016, I can say I came away impressed with the peformance and I am glad I went.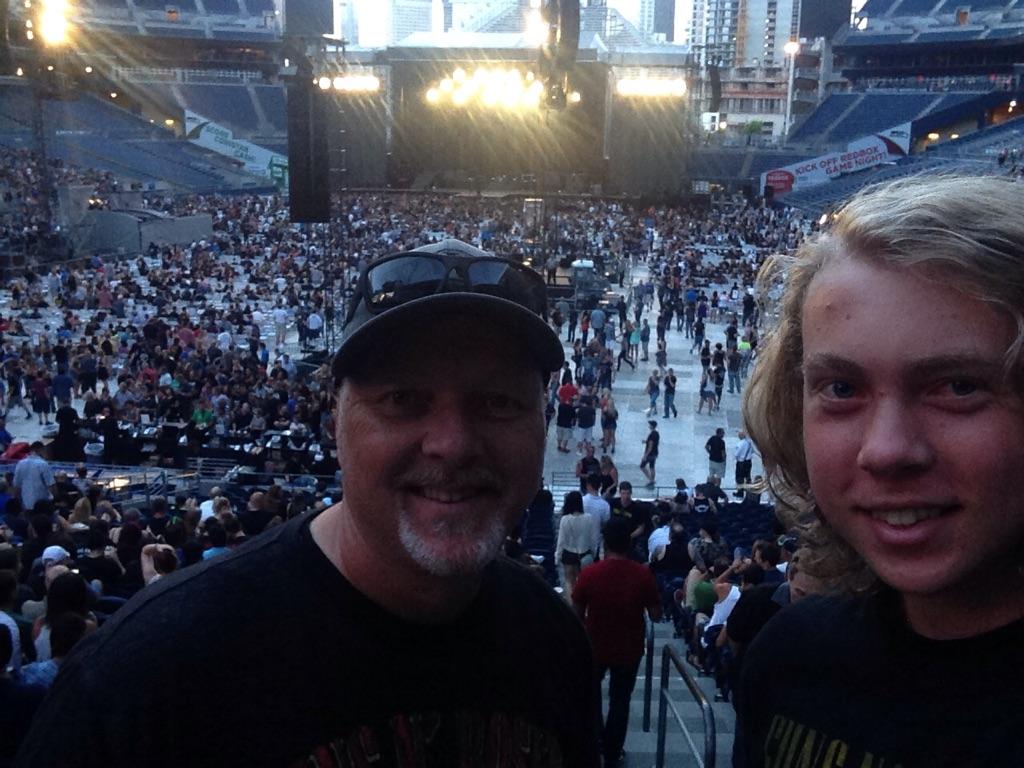 As expected, there was wait at the t-shirt line, but it went fairly fast compared to other shows we have attended this year. While waiting, we could hear 'The Pink Slips', an up and coming synth-pop/punk band, fronted by 18 year old GRAVE (aka, Grace McKagan; daughter of Guns N' Roses bassist Duff McKagan) playing their opening set. As we made it to our seats, they were followed by one of my personal favorite non-80's metal bands, Seattle's own, Alice In Chains, who played a fantastic set, but started so early (7:20pm), most fans had not arrived yet, and as a result, their performance lacked some of the energy you would expect from an AIC show.
Click Here to view more photos
 
The stage was turned for the headliners and anticipation started to set in for real on a warm evening in the Emerald City (about 83 degrees at showtime) when the giant video display began showing various GnR logos as twilight set in.
The reunited Guns N' Roses looked and sounded great… Axl was fit, Slash is one helluva guitar player and Duff pandered to the Seattle crowd by wearing a Seahawks shirt. They opened with 'It's So Easy' and 'Mr. Brownstone', before performing 'Chinese Democracy' and then whipping the crowd into a frenzy with 'Welcome to the Jungle'.
It was a great energetic opening and then the setlist got a little erratic with 'Double Talkin' Jive', 'Estranged', 'Live and Let Die', and 'Rocket Queen'. All great songs, but so slow after those first four. Okay I'm being a little picky 🙂 'You Could Be Mine' got the crowd going again, followed by a cover of the Misfits 'Attitude'. Then came 'This I Love', 'Civil War (with "Voodoo Child" outro)', Coma, and a long but killer guitar solo from Slash playing the 'Love Theme from the Godfather' before launching into 'Sweet Child O' Mine'.
The Guns N' Roses catalog is loaded with some of my favorites of all time, but I was also reminded how many ballads they released. They performed 'November Rain' that included a piano intro and exit of Eric Clapton's 'Layla' back to back with 'Knockin' on Heaven's Door'.
They finished the main set with 'Nightrain', before returning for encores that included 'Don't Cry' and 'Paradise City', complete with great fireworks show that could only be done at an outdoors arena.
The Guns N' Roses North American 'Not In This Lifetime' tour ends August 22nd in San Diego, California after two nights at Dodger Stadium in Los Angeles. METAL SHOP's Ralph Cartel attended the 8/18 show, where he noted "the last time I saw the original Guns N' Roses was back in 1988 when they opened up for the Rolling Stones at the Memorial Coliseum in Los Angeles. I vaguely remember Axl Rose talking shit… saying that if some members of the band didn't stop dancing with Mr. Brownstone, that the band would break up."
 
Axl, Slash and Duff last played together with the original band on the 'Use Your Illusion tour' that ended in Buenos Aires, Argentina, on July 17, 1993. There was no public affection between the three of them at the Seattle show, in fact, there was not much banter at all. Axl is still aloof, but his voice is in fine shape and seeing these great musicians together one more time made for a great memory.
Click Here to view more photos