RichRock
 
If you ever wanted a quick reference to where your favorite hair metal band got their start, check out this Hair Metal History Map put together by Phil D.
 
Phil writes… "I spent dozens of hours putting it together and now, I'm trying to share it with those who would appreciate it! It is a work in progress and I would love any suggestions or input!"
 
Band choices were made based on the look, subject matter, attitude, lifestyle, time period, influence, affiliated bands, radio/TV play, and Phil's memory.
 
Click on any band photo to see where they are from. You can also click the 'Timeline' tab that will show the hair metal movement origins in 1977 and where it grew across the U.S. and Europe through 1994.
 
Thanks for the great work Phil!
 
 
Since METAL SHOP signed online in 2003, Bruce Pulley has been a constant presence as the station imaging voice.
 
Listeners never knew his name, but those pipes became familiar as he boomed "Who wants to rock?!" or "Kickin' your ass with 80's metal and hard rock!"
 
Blessed with the perfect rock radio voice, he gives METAL SHOP that larger than life sound, a sound he honed in a radio career that included KLOS in Los Angeles, CA and KUFO in Portland, OR.
 
Sadly, Bruce passed away on Sunday.
 
He was a good guy and a lot like the rest of us, a fan of hard rock looking for a good time.
 
After I received the news Monday, I went to the archive of all the audio Bruce recorded for METAL SHOP over the years and put together some outtakes. He liked to have fun, had a great sense of humor and was always solid at his work.
 
He will continue to be the image voice of METAL SHOP for the foreseeable future. I will miss him. R.I.P. Bruce and condolences to your family.
 
-Rich Rock
 
Remember Y & T? I asked a few of my friends who like or appreciated 80's rock and metal and I was floored how many had never heard of them, especially when you consider many of the biggest acts to come out of the 80's became popular by opening for Y & T, including Metallica and Mötley Crüe.
Well, it's their loss. I remember it all and so do the many bands and performers you have heard of that say Y & T was a major influence on them, such as Lars Ulrich of Metallica, who stated in the 2009 film "Anvil!: The Story of Anvil" that he chose to become a musician after watching Yesterday & Today (Y & T) perform at a club in L.A. in 1980, saying: "That was the turning point for me wanting to play music…You could tell that they loved what they were doing." And judging by their performance at the intimate Aladdin Theatre (capacity -620) in Portland, Oregon on Friday, March 16, 2018, they still do.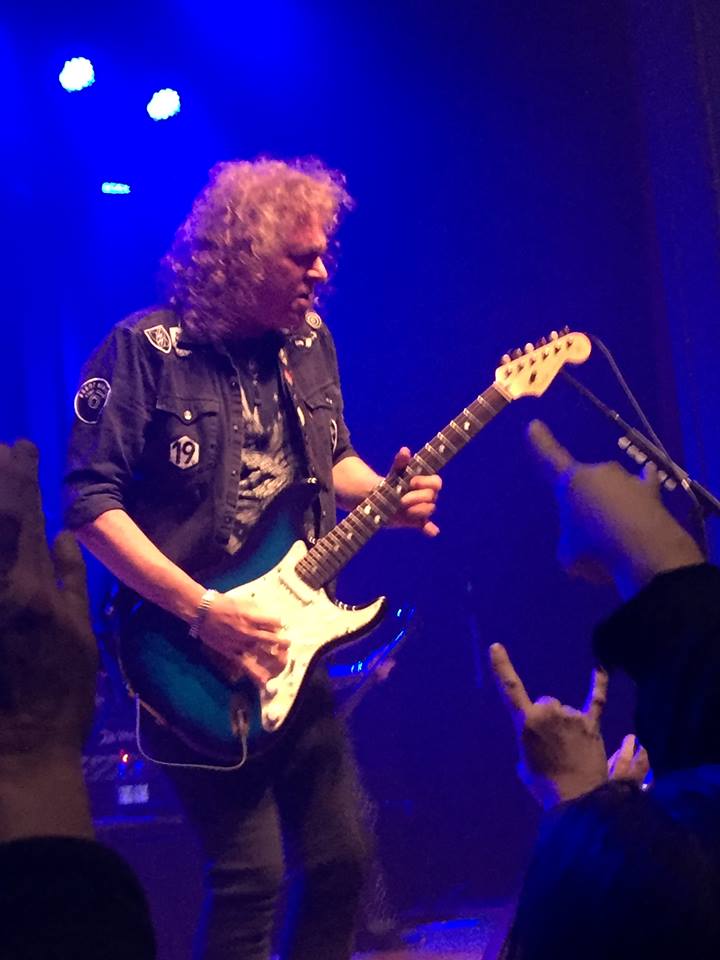 The band has gone through many lineup changes since the early 70's, with the lone mainstay from their classic lineup being lead guitarist and singer Dave Meniketti. Sadly former Y & T rhythm guitarist Joey Alves died last year, original drummer Leonard Haze passed away in 2016 and bassist Phil Kennemore died in 2011. I thought about this as Y & T performed "Lonely Side of Town" from the Mean Streak album… "It's a cold, cold city when you're out there on your own."
Click Here to view more photos
Backing up Meniketti in Y & T today is rhythm guitarist and backing vocalist John Nymann, bassist Aaron Leigh and drummer Mike Vanderhule. These guys made me think of the Netflex documentary 'Hired Gun'… they are consummate side players who kill it show after show.
When you are the sole remaining member of a classic band, most of the attention will come your way and Meniketti didn't disappoint. At age 64, experience matters and his underrated guitar solos rival the greats who have received most of the accolades from that period of music.
The setlist for Portland included opening with "Black Tiger" and METAL SHOP staples "Mean Streak," "Lipstick & Leather," and "Contagious." Checking Setlist.fm, Y & T has mixed it up on this tour, taking requests from the audience that has left some favorite songs out, including "Don't Stop Runnin'" which they had played only once this year before this show. The bummer was "Midnight In Tokyo" was left out for us.
My cohorts and me left the Y & T show impressed and a bit perplexed this band didn't receive more widespread acclaim back in the day. It was a great performance by seasoned musicians and left us wanting more.
Click Here to view more photos
Y & T returns to their hometown San Francisco, California to play the historic Fillmore on March 24th, then a short break before returning to the road for dates in California and Nevada through the end of April.
Photos courtesy of Mike Koreski.
Count me as an 80's metal fan that wasn't overly excited about a Guns N' Roses reunion tour when it was announced on April 1st of this year (it could have been a joke anyway, right?). Sure, we heard Axl and Slash were talking and supposedly had buried the hatchet, but I had images of a fat Axl and a reluctant Slash getting along just long enough for a major money haul.
 
The latter may still be true and if it wasn't for my 17 year old son really wanting to see his new favorite band, I am not sure I would have gone. But after seeing the mostly original GnR lineup (Axl, Slash, Duff) perform in Seattle on Friday, August 12, 2016, I can say I came away impressed with the peformance and I am glad I went.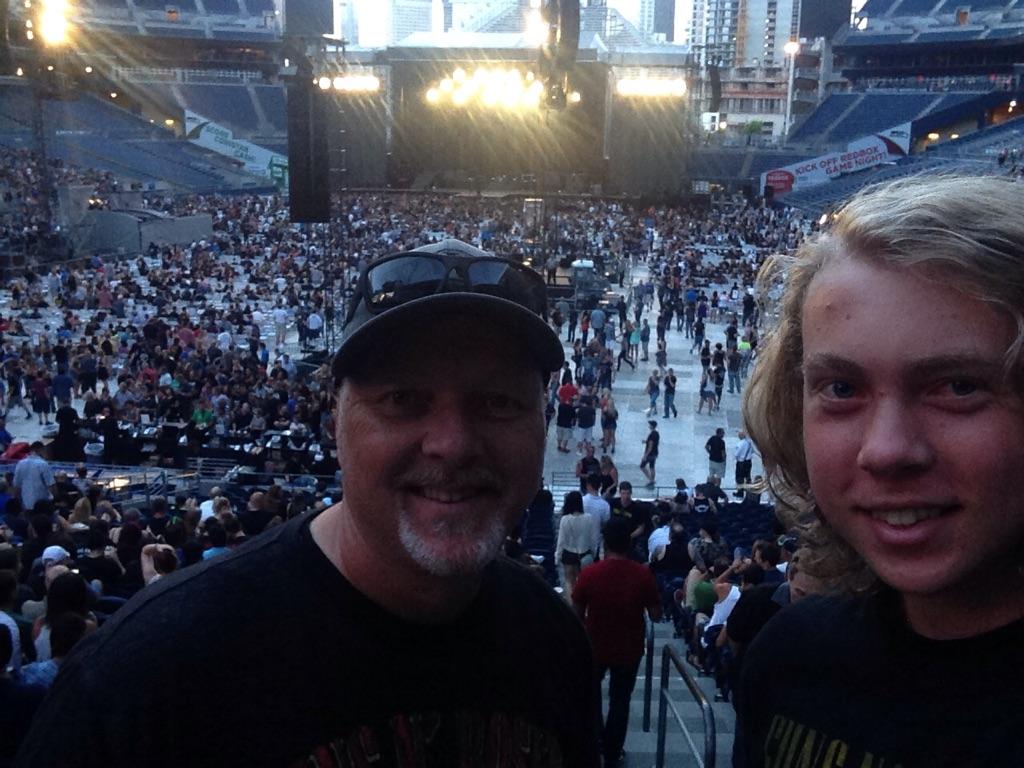 As expected, there was wait at the t-shirt line, but it went fairly fast compared to other shows we have attended this year. While waiting, we could hear 'The Pink Slips', an up and coming synth-pop/punk band, fronted by 18 year old GRAVE (aka, Grace McKagan; daughter of Guns N' Roses bassist Duff McKagan) playing their opening set. As we made it to our seats, they were followed by one of my personal favorite non-80's metal bands, Seattle's own, Alice In Chains, who played a fantastic set, but started so early (7:20pm), most fans had not arrived yet, and as a result, their performance lacked some of the energy you would expect from an AIC show.
Click Here to view more photos
 
The stage was turned for the headliners and anticipation started to set in for real on a warm evening in the Emerald City (about 83 degrees at showtime) when the giant video display began showing various GnR logos as twilight set in.
The reunited Guns N' Roses looked and sounded great… Axl was fit, Slash is one helluva guitar player and Duff pandered to the Seattle crowd by wearing a Seahawks shirt. They opened with 'It's So Easy' and 'Mr. Brownstone', before performing 'Chinese Democracy' and then whipping the crowd into a frenzy with 'Welcome to the Jungle'.
It was a great energetic opening and then the setlist got a little erratic with 'Double Talkin' Jive', 'Estranged', 'Live and Let Die', and 'Rocket Queen'. All great songs, but so slow after those first four. Okay I'm being a little picky 🙂 'You Could Be Mine' got the crowd going again, followed by a cover of the Misfits 'Attitude'. Then came 'This I Love', 'Civil War (with "Voodoo Child" outro)', Coma, and a long but killer guitar solo from Slash playing the 'Love Theme from the Godfather' before launching into 'Sweet Child O' Mine'.
The Guns N' Roses catalog is loaded with some of my favorites of all time, but I was also reminded how many ballads they released. They performed 'November Rain' that included a piano intro and exit of Eric Clapton's 'Layla' back to back with 'Knockin' on Heaven's Door'.
They finished the main set with 'Nightrain', before returning for encores that included 'Don't Cry' and 'Paradise City', complete with great fireworks show that could only be done at an outdoors arena.
The Guns N' Roses North American 'Not In This Lifetime' tour ends August 22nd in San Diego, California after two nights at Dodger Stadium in Los Angeles. METAL SHOP's Ralph Cartel attended the 8/18 show, where he noted "the last time I saw the original Guns N' Roses was back in 1988 when they opened up for the Rolling Stones at the Memorial Coliseum in Los Angeles. I vaguely remember Axl Rose talking shit… saying that if some members of the band didn't stop dancing with Mr. Brownstone, that the band would break up."
 
Axl, Slash and Duff last played together with the original band on the 'Use Your Illusion tour' that ended in Buenos Aires, Argentina, on July 17, 1993. There was no public affection between the three of them at the Seattle show, in fact, there was not much banter at all. Axl is still aloof, but his voice is in fine shape and seeing these great musicians together one more time made for a great memory.
Click Here to view more photos
80's Metal Perfect Pairing: Armored Saint Metal Church
Since December I have seen Motley Crue, AC/DC and Iron Maiden live. Arena Rock is great, but these bands all started in some club somewhere. And there is just something about a small club that takes you back to the early hungry days as bands work to make a name for themselves.
Saturday night's Armored Saint Metal Church concert at the Hawthorne Theatre (capacity -620) in Portland, Oregon on Saturday, June 11, 2016, had that feel and it was awesome. Putting these bands together for a tour was a great idea, but too short as this was the final show.
Armored Saint
A friend of mine who attended said "Armored Saint was crazy good!!! The energy there was just something you don't see at many shows! There was some urgency to it! Still buzzing from it, rhythm section was amazing!"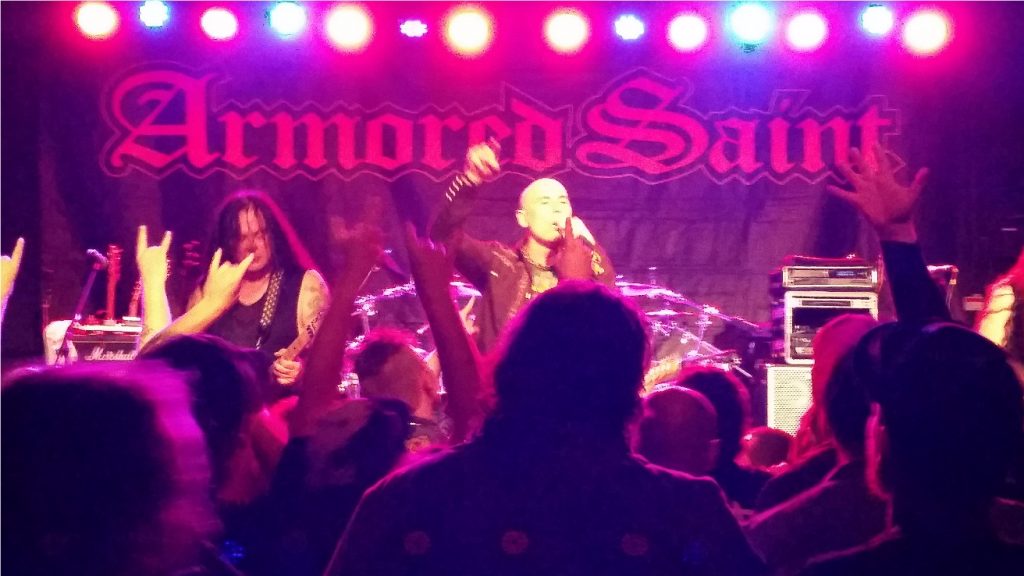 This co-headline tour featured each band switching off each night and on this stop, Armored Saint took the stage first. The last time they played here was 2001 at the Roseland Theatre. At the time though, that venue had a different name and lead singer John Bush asked the crowd what is was called? (Starry Night).
I loved the localized banter from Bush between songs. We know most singers just repeat the same lines each night, but Bush was specific to Portland on most things he talked about, including playing here with Metallica in the early 80's and the time he threw out his armour costume into the crowd… "somebody here tonight still have that?" he asked. Speaking of which, there aren't too many photos out there of the 1984 tour, but I found one here courtesy of the Kevin Estrada Blog.
Armored Saint opened with the great new song 'Win Hands Down' and their setlist included all the classics we know and love… 'March of the Saint', 'Long Before I Die', 'Reign of Fire' and 'Can U Deliver'.
My friend continued, "Armored Saint should've headlined and their set wasn't long enough! John Bush was the star this night! That voice is just flawless! My fav moment was when Bush nailed that scream in the middle of "Can U Deliver"!
Yes, I felt that… I'm still buzzing too. And how about Bush jumping into the crowd to surf? The dude is 52… that was killer! A guy next to me was at the Seattle show the night before and I thought "you drove down here to see it again?" I get it though. Hope they come back soon.
Metal Church
Around 11:30, Metal Church hit the stage, opening with 'Fake Healer.' The crowd was just as fired up for this one and with Mike Howe back on vocals, the night just felt special, like how lucky are we to see this great concert.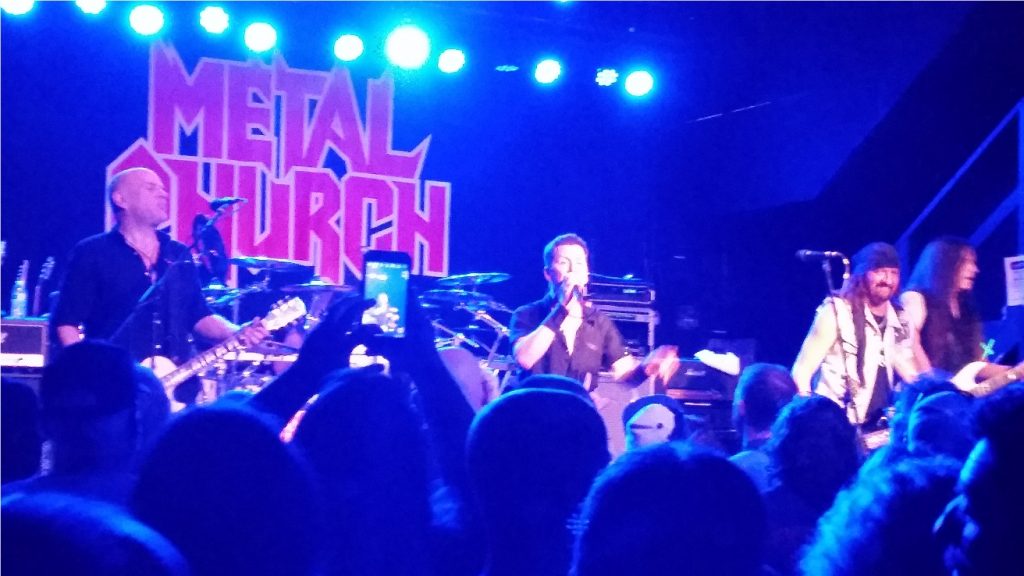 The mosh pit was non-stop during both shows. My 17 year-old son and I were separated from the pit by only one row of humans, who did a good job pushing the moshers back in, but we got bumped a few times. When Metal Church launched into 'Start the Fire', I felt like I might want to join the pit, but I came to my senses and perished the thought.
There were quite a few tracks from the new album in their 13 song set, including 'No Tomorrow'. Most of the setlist featured songs from the Church albums Howe sung on from 1988 to 1994, including 'In Mourning', 'Date with Poverty' and 'Badlands'.
Only one song was played from their 1984 debut album and it was 'Beyond the Black'. Howe joked with guitarist Kurdt Vanderhoof that this song was written the day he was born.
This West Coast USA tour lasted all of seven dates. I'm not sure if it was a test run or something, but it was one of the best 80's metal concerts I have attended. The small club feel and sound combined with musicians who have been playing together for 30+ years in some cases, made for an enthralling performance from both of these great bands.

The last few months have been an amazing ride attending classic metal shows with my almost 17 year old son. We saw Mötley Crüe's final concert in Portland, Oregon in December and AC/DC (with Brian Johnson) in Tacoma, Washington in February. But on this night, it was a chance to see my favorite and the rulers of heavy metal mountain for most people, Iron Maiden at the Tacoma Dome in Tacoma, Washington on Monday, April 11, 2016.




After waiting in the t-shirt line (all shirts were $40, unless you were XXL or XXXL, they were $45… yes, an extra $5 because you're old and fat or maybe our 80's metal heroes know we probably have more cash at this point in our lives), we waited in the security line for what seemed like a lifetime, but at least we knew nobody was going to smuggle in a flare gun… more on that in a moment, and we were entertained by the drunk woman next to us worried that her "titanium p%*$y" may not pass the security wand.

Once inside and with only minutes to spare, we rushed to our seats to catch the opening of Iron Maiden in the Northwest on 'The Book of Souls' tour. The new record is killer and their 16th album may be one of their best. The first two songs on this tour are the first two songs on 'Souls' and consistent with what they have done on previous tours… remember they opened the 'World Slavery Tour' in 1984/85 that was recorded for the 'Live After Death' album, with "Aces High" and "2 Minutes To Midnight," the first two songs on 'Powerslave.'




Back in their 1980's hungry days, Maiden played nearly every city, including the Tacoma Dome on February 10, 1987 on the "Somewhere On Tour' tour, but this was the first time they had played the Dome since the 'Brave New World Tour' in 2000. Early in the show, singer Bruce Dickinson mentioned their history playing the Tacoma Dome, referencing a time when a soldier who had brought a flare gun, fired it into the air and that set the ceiling of the building on fire. Funny thing is, this really did happen, but it was during an AC/DC concert there in 1983.

Dickinson told the audience they would be playing a few songs from the new album and a few "legacy tracks," including for the first time since the 'Somewhere Back in Time World Tour' in 2009, their performance of "Children of the Damned." This was followed by two more songs from 'Book of Souls,' "Tears of a Clown" (the band's take on the life of late comedian Robin Williams) and "The Red and the Black."




As soon as the stage backdrop changed to the iconic image of Eddie clenching the British flag in his bony hand, the energy of the crowd of 16,000+ in attendance rose dramatically as Maiden launched into "The Trooper." Considering his age (57) and his recovery from throat cancer last year, Dickinson sounded amazing, and you could really hear him, as the volume on his microphone seemed to be much louder than the guitars and drums. This was my only critical point of the show, in that some of the energy of the songs was lost from the instruments compared to Bruce's voice.




The only song played from 1984's "Powerslave" was the title track, but that was fitting with the ancient Mayan temple stage theme. This was followed by two more new songs, "Death or Glory" and "The Book of Souls," during which a 12-foot tall Eddie (dressed like a Mayan warrior) walked about casually on the stage and chased the band members. Guitarist Janick Gers ran between Eddie's legs multiple times and then got in a slap.




As great as their new music is, Iron Maiden know their fans will not be satisfied with just that and while skipping some classics that most bands could not get away with ("Flight of Icarus", "Run to the Hills", "Revelations"), they ran downhill to their heyday for the final six songs, including "Hallowed Be Thy Name", "Fear of the Dark" and "Iron Maiden."




They returned for encores, "The Number of the Beast", "Blood Brothers" and "Wasted Years."




There is nothing quite like an Iron Maiden concert and the next generation agrees… My son and I really enjoyed this one. Until next time, 'Always look on the bright side of life.'




Ed Force One Lands At Sea-Tac Airport



Launching a new month and Spring Break for me starts now, but the 80's metal rolls on 24/7 on METAL SHOP.

Here's a 2-minute readup on this mostly Fool-free Friday, April 1st.

There is nothing to contradict the earlier reports of Axl Rose guest singing for AC/DC on the remaining 10 scheduled tour dates, so we are accepting it as fact. This article lays out the evidence quite nicely.

For Axl's other band, all signs point to a sneak-peek GUNS N' ROSES warm-up show tonight at a Los Angeles club. The exact location is also unconfirmed, though several sources point to the Troubadour. This will be the first time Axl appears on stage with both Slash and Duff McKagan since 1993.

History tells us David Lee Roth quit VAN HALEN on April 1, 1985, but history is wrong. Roth left the band in 1985 and the idea of him springing this news on April Fools' Day makes for a great story, but the truth is Eddie delivered the bad news in the pages of Rolling Stone in August, "The band as you know it is over," he said. "Dave left to be a movie star. He even had the balls to ask if I'd write the score for him." Eddie then made clear that he'd moved on. "I'm looking for a new lead singer … it's weird that it's over. Twelve years of my life putting up with his bulls–."

AC/DC Guitarist Angus Young celebrated his 61st birthday yesterday (3/31). Former SKID ROW singer Sebastian Bach turns 48 on Sunday (4/3).

Of course it's "All Fools' Day," an Elizabethan smart-mouthed play on "All Saints' Day" and if you're a fool for classic metal, you may have bought this headline today, 'Metallica to stage Master Of Puppets… on ice!' courtesy of teamrock.com… hopefully only for a second. This April Fool's prank was definitely better the headline posted on Loudwire 'James Hetfield Quits Metallica to Join the Yeah Yeah Yeahs'

That's a wrap. Updates during my Spring Vacation will have to come between beers, but rest assured, I'm on top of it 🙂 Upon my return, the IRON MAIDEN tour will be in my neighborhood… can't wait! In the meantime, I'm enjoying this great footage from Wednesday night's New York City stop – Click Here

Rock on kids!



On April 6, 1985, DOKKEN performed their hits 'Just Got Lucky' and 'Alone Again' on American Bandstand. Bassist Jeff Pilson shared his memories…

"I remember the day well. We'd just played with Triumph the night before in San Diego, and had to play AB at 9:00 AM. Back then that was extremely early for all of us."

"Anyways I remember Don decided to try a new outfit that day- we called it the pirate outfit. Wow- turned out to be not such a great idea! Poor guy- got ribbed to death on that one. At least he tried doing something new, but what an embarrassment (like all the other outfits from that era weren't!!). George looked cool in it (I do have a copy and showed my wife a couple years ago so the memory is fairly fresh)."

"Other than that Mick saved the day by saying the highlight of his career was meeting Gladys Knight (who was also on the show) after George inadvertently dissed Detroit by saying it was the low point on the tour. Of course what he had meant was the hotel room he and I had shared that had blood stains and stab marks in one of the beds!! But all in all a very cool experience!"




Welcome to WTF Thursday. Rumors persist that Axl Rose will perform with AC/DC as a guest vocalist for their 10 remaining shows, but this sounds like a done deal with Malcolm Young's son claiming 'It's True.' Another source says Brian Johnson was "supposed to retire after the last tour." Official word should be coming any day or minute now.

40 years ago this summer, KISS' Gene Simmons discovered VAN HALEN and recorded several demos with them, including Eddie and Alex playing KISS' "Christine Sixteen." Those recordings have never seen the light of day. Simmons says "It's a lot of cool stuff, but the band just doesn't want it to come out — you know, the back and forth with [David Lee] Roth complicated matters." While there is no official release, you can hear the demos online at this location – http://www.vhnd.com/2016/03/22/gene-simmons-talks-lost-seventies-van-halen-demos/

METALLICA's "Master Of Puppets" is among the albums that have been selected for induction into the Library of Congress' National Recording Registry, which annually selects 25 recordings that are "culturally, historically, or aesthetically significant" and are at least 10 years old. The selections for the 2015 registry bring the total number of recordings on the registry to 450, only a minuscule portion of the Library's vast recorded-sound collection of more than 3 million items.

On considering the possible end of IRON MAIDEN when Bruce Dickinson was diagnosed with cancer, bassist Steve Harris said "At this stage of our career, I really don't think we would have looked to another singer. We didn't even consider it. There's no point. We can't really replace Bruce anyway, so we wouldn't try at this stage in our career. I don't think so. But, thank God we didn't need to and he's fine." Harris went on to say "If Maiden ended tomorrow, it's been amazing and I can live with that."

This sounds like an Onion article, but this headline was seen on a metal website yesterday – "MÖTLEY CRÜE Reunites As 'Motley Crew' To Avoid Retirement Contract"

Today in 1979, MOTÖRHEAD paved the way for thrash with their second album 'Overkill'

Happy Birthday to Exodus singer Steve Souza. He turns 52 today.

The 80's metal runs loud and proud on METAL SHOP 24/7. Thanks for listening!



No more Mr. Nice Guy dogs. It's coming down fast and it's coming down hard. Thanks for listening to METAL SHOP.

The major metal news outlets have not confirmed, but this site posted yesterday that a 'source close to AC/DC confirms singer Brian Johnson was fired.' Comedian Jim Breuer feels 'really bad' about invading AC/DC's privacy last week when he said Brian Johnson was "kicked to the curb" by the band, but the report from United Media Publishing claims "everything Mr. Breuer originally said is basically the truth, in a roundabout way."

The informant, speaking out only under the condition of anonymity, says it's his loyalty to Brian Johnson as to why he's risking his job by speaking out. He says Brian is a "fab guy and has been treated like shit. He does have hearing issues but not as serious as they're saying. This was just an excuse to fire the guy, basically." The insider also denied claims that KROKUS singer Marc Storace was contacted by the band's record label to possibly replace Johnson.

The source said lead guitarist (and sole remaining original member) Angus Young has narrowed the search down to two or three guys, all relative unknowns outside of their respective countries, putting to rest rumors of a possible mashup of classic rock royalty. "They're not well known names. The band never considered any big name vocalists to replace Brian. I think they wanted to find a fresh new talent. The plan is to decide on the singer within the next couple of weeks, maybe sooner, reschedule the tour and get back out on the road as if nothing's happened."

METALLICA released audio of 'The Four Horseman' from the remastered edition of 'Kill 'Em All,' coming out April 15th. The quality is excellent, but probably too clean. Maybe new fans will appreciate this, but I still get most excited hearing the energy and raw sound of the original that got me hooked in the first place. Have a listen – Click Here.

After a major runway accident in Chile, IRON MAIDEN's Ed Force One has been repaired and will rejoin the tour today in Brasilia. While Maiden had continued touring South America without it, it's good news if you hoped to get a glimpse of the plane when they come to your town.

Maiden's third album and first with singer Bruce Dickinson, "The Number of the Beast," was released today in 1982. The album cover was originally created for the song "Purgatory", but was deemed too high a calibre of artwork for a single release and it was saved for The Number of the Beast album instead. The original 1982 artwork includes a blue sky in the background; this was a mistake by the printers of the album cover, and was later rectified and became black when the album was remastered for compact disc in 1998.

ANTHRAX released their big breakthrough album "Among the Living" today in 1987. It features the singles, "I Am the Law" and "Indians" and was dedicated to the memory of METALLICA bassist Cliff Burton.

SCORPIONS were forced to cut short their concert in Hamburg last night because of a "viral infection" affecting the voice of the band's lead singer, Klaus Meine. The band reportedly performed for about thirty minutes before calling off the rest of the gig. It is not clear if Meine will be well enough to take part in the next performance scheduled for Wednesday in Leipzig.

An official announcement is expected today, but there is speculation that former GUNS N' ROSES drummer Steven Adler will join the big reunion. Stay tuned.